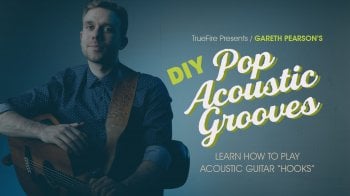 4th Sept 2022 | 2.58 GB
Learn How To Play Acoustic Guitar "Hooks"
All hit songs share three common qualities; the melody grabs your ear, the lyrics are relatable, and your body moves involuntarily to the rhythmic groove. Everything falls flat without that solid rhythmic "hook", arguably the most critical ingredient of any hit song.
Gareth Pearson's DIY Pop Acoustic Grooves will teach you how to craft and how to play powerful "pop" grooves, in the style of Ed Sheeran, John Mayer, Jason Mraz, Jessie J, Tracy Chapman, Bruce Springsteen and many other chart-topping artists.
"I'll breakdown and demonstrate 10 of the most powerful formulas for creating "hook" grooves: Building a Melodic Hook, A Less is More Approach, Muted Arpeggios, Bouncy Pop Basslines, Reggae-Like Up-Strums, Double-Stop Pop Stabs, Using Sparse Rhythmic Riffs, Folky Fingerpicking, Steady Bass & Pinched Harmonies, and Funky Right Hand Strumming.
For each groove, I'll first explain the formula and show you a simple exercise to help you grasp the creative techniques that power that acoustic groove. Then, we'll apply the formula and example, over a playalong backing track, for musical context."
Gareth will explain and demonstrate all of the key concepts and approaches along the way. You'll get standard notation and tabs for all of the performance studies. All of the backing tracks are included for to practice with on your own.
Plus, you'll be able to use TrueFire's learning tools to sync the tab and notation to the video lesson. You can also loop or slow down the videos so that you can work with the lessons at your own pace.
Grab your guitar and let's get in the "acoustic groove" with Gareth Pearson!
home page
---
Password/解压密码www.tbtos.com
转载请注明:0daytown » Truefire Gareth Pearson's DIY Pop Acoustic Grooves Tutorial