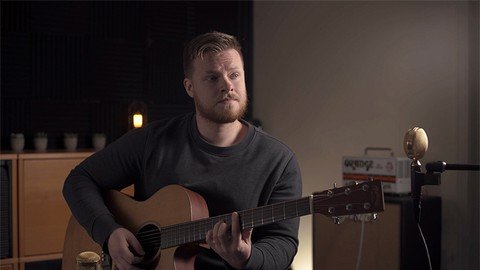 Last updated 3/2021
MP4 | Video: h264, 1280×720 | Audio: AAC, 44.1 KHz
Language: English | Size: 1.94 GB | Duration: 1h 36m
Learn the songs you love quickly and effectively, no previous knowledge required!
What you'll learn
Beginner Guitar
Guitar Chords
Acoustic Guitar
Guitar
How to play Guitar
Requirements
None
Description
In this class, Jacob Lamb takes you through the basics of learning guitar, with no prior knowledge necessary! Consider this your first guitar class. In this class we'll start with the basics: the parts of the guitar, the names of the strings, tuning our guitar, and how to read a chord picture – then we learn chords in steps, with popular song tutorials to practice our new skill.Along with chords, this course will cover strumming patterns, guitar warmups and how to read guitar tabs.Each lesson video features closeup views, as well as pictures to help you grasp new information quickly and easily.By the end of the course, you'll be able to search for any song online and begin playing through like a natural!Lesson list:Parts of the GuitarLearn how to identify parts of the guitar and the "lingo" for our lessons.Left and Right hand TechniquePick up proper picking technique and how to avoid left arm fatigue!Names of the StringsElephants, And, Donkeys… learn the names of each string!Tuning Your GuitarMake sure your instrument is in tune so your chords sound perfect.Reading a Chord ImageLearn to interpret the chord images we'll be learning from.Our First Chords (Em, G, C, D)Let's learn some sweet sounds – our first four chords are here.First Song – Viva La VidaTime to start jamming!Our Next Chords (E, Am, Dm)Adding to our chord toolbelt.Second Song – CrazyGood practice for the previous lesson!Our Newest Chords (A, Bm)Our final open chords!Third Song – Set Fire to the RainYou can't help but belt it out!Strumming Patterns (4 beats)Time to bring our chords to life with right hand rhythms.Strumming Patterns (3 beats)Learn more strumming patterns for three-beat songs.Bar Chords (6th String)A new type of chord – one movable shape.Bar Chords (5th String)And now, the movable shape from the fifth string!Fourth Song – Bar Chord PracticeAn original tune to practice our chords… name it whatever you'd like!Reading TabsHow to utilize guitar tabs to learn melody linesHalf and Whole StepsTheory 101 – hugely helpful for understanding the fretboard.Sharps and FlatsTheory 102 – You can't play much without them!Power ChordsOur final type of chord – another movable shape, best for rock music.WarmupsBring some warmups to the beginning of your practice sessions, your fingers will thank you.Alternate PickingUp and down, a new way to pick single notes!
---
Password/解压密码www.tbtos.com