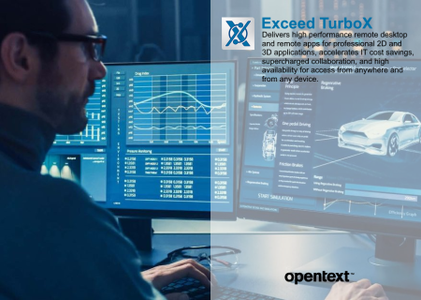 OpenText Exceed TurboX 12.0.4 | 923.7 mb
The Open Text Inc. development team is pleased to announce the availability of Exceed TurboX (ETX) 12.0.4. This solution enables modern hybrid work with secure virtual desktops and virtual applications.
Exceed TurboX is a high-performance remote-access solution that empowers a truly global workforce, providing access to UNIX, and Microsoft Windows desktops and applications through the web or corporate WAN. This improves the reach of your enterprise applications and allows for data center consolidation to reduce costs and increase security. Exceed TurboX offers granular settings for remote file, printing and clipboard access which can make sure no bit of information leaks outside the data center. Many verticals are using Exceed TurboX to deploy their graphically demanding software to their users. Verticals include Electronic Design Automation (EDA), Manufacturing, Architectural Engineering, Oil& Gas, Utilities and many more. Employing a remote access infrastructure and global datacenters enables cost savings with a quick Return on Investment.
OpenText Exceed TurboX (ETX) provides high-speed access to graphical applications and desktops running on X11 and Windows hosts. ETX provides a central location for IT to securely deploy applications running on a variety of server platforms, including physical workstations and virtualized environments to a managed list of users across the globe.
Open Text Inc. provides enterprise information management solutions. The Company offers platform and developer extensions, process suites, emailing, content and records management, B2B integration, and business planning and modeling solutions. Open Text serves customers worldwide.
Product: OpenText Exceed TurboX (ETX)
Version: 12.0 SP4 (12.0.4.7508)
Supported Architectures: x64
Website Home Page : http://www.opentext.com
Languages Supported: english
System Requirements: Linux *
Size: 923.7 mb
---
Password/解压密码www.tbtos.com