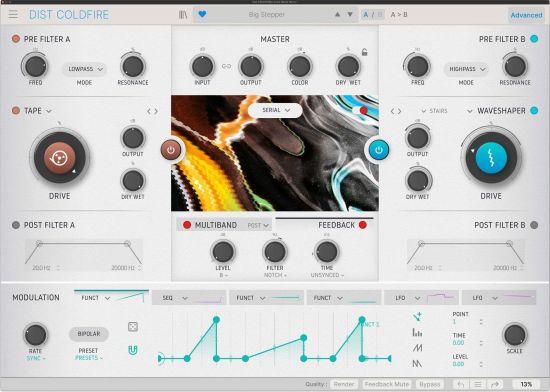 GbR | 30 August 2022 | 197 MB
Dist COLDFIRE is a dual-engine distortion effect that goes from rich tube saturation to unrestrained sonic destruction in a few clicks. Combine analog & digital algorithms with deep modulation and customization, and unlock near-infinite distortion possibilities for your sound.
Main Features
Two distortion engines
11 distortion algorithms to choose from, each with specific controls
Tape
Tube
Transistor
Transformer
Rectifier
Germanium
Force
Bit Crusher
Bit Inverter
Wavefolder
Waveshaper
Hidden Advanced control panel for in-depth sound design
5 routing options: Serial, Parallel, Stereo, Mid/Side, Band Split
Routing balance slider to blend Distortions A & B, with real-time visualizer
Pre or Post 3-mode Dynamics module: Compressor, Multiband, Limiter
Feedback module
6-mode Pre Filter per distortion engine, including Comb Filtering
2-band Post Filter per distortion engine
6 assignable modulation slots, each with 4 modes: LFO, Function, Follower, 16-Step Sequencer
Over 150 presets built-in
A/B comparison
Oversampling
Whats new in this version
Official site does not provide any info about changes in this version.
System Requirements
Mac OS 10.13+