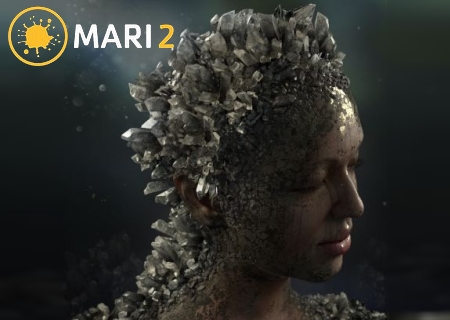 MARI 是个可以处理高复杂度的创意纹理绘制工具。原创于 Weta Digital 制作公司,为他们的纹理部门在制作 District 9 第九区、The Lovely Bones 苏西的世界、和 Avatar 阿凡达 时,因应极度复杂、细腻的纹理设计需求而研发的。
.
MARI 拥有超越许多二维绘图系统的创意工具组,让艺术家们能专注于绘制工作。它具有互动迅速又流畅的用户界面,您可以直接在模型上绘制纹理,并能实时看到效果。不但省时,更将纹理绘制工作带到前所未见的境界。
.
MARI 具有无以伦比的庞大和巨量纹理处理功能,发挥极度细腻的纹理效果。
.
速度
成果立即展现,降低修改的需求,省时又省钱。告别以往绘制、渲染、审查、修改的循环程序。一个模型的所有纹理皆能同时载入 MARI,省去分割模型的麻烦。
.
绘制
首屈一指的创意绘图工具,专注于艺术家们的需求。MARI 经过极度生产压力历练而生的绘笔引擎,将艺术家从传统的限制中解放出来,容许他们自然的在模型上作业。
.
镜内效果
就视觉特效工作而言,镜头内的整合效果才是最重要的。一个镜头中的模型在背景前,从任何角度所呈现的效果都非常重要。MARI 允许艺术家在镜头内检视效果,并可直接在模型上绘制适当的纹理。
.
纹理变化
纹理在不同的时间点可能需要改变,例如脸红的少女、刮伤凹陷的盔甲等,纹理的变化是做真实效果时很重要的一环。在 MARI 里您能逐格绘制纹理。
.
工作流程
MARI 能有效的与复杂的工作流程整合,发挥更强劲的功效。它在界面、几何模型、相机、和着色各方面都采用了开放和可扩展式的架构,同时支援色彩管理,和打光、纹理等的变化。输入和输出则在背后进行。
.
用户界面
一个清晰、直观的用户界面允许艺术家把重点放在重要的地方。可客制的用户工具栏让他们有效的安排自己的工作空间。可客制的实时三维着色器更让他们能够即时检视工作成果。
---
The Foundry Mari 2.0v2 | 407.0 mb
MARI is the most fluid and natural way to paint in 3D. It makes life simple for artists by allowing them to paint directly onto 3D models with more time for painting and less time managing technical issues.
Designed to meet the needs of even the most challenging VFX projects, MARI is capable of handling super high-resolution textures and millions of polygons without slowing artists down. MARI interacts well with other pipeline tools and with industry standard Python scripting and a customisable UI artists can work the way they want to.
MARI was the primary 3D paint tool used on 9 of the 10 features shortlisted in the category of 'Visual Effects' in the 2013 Oscars®. These include: The Hobbit: An Unexpected Journey, The Avengers and Prometheus.
MARI adoption is increasing outside of visual effects too – and with its state of the art layer system it has become easier than ever to learn and use.
Release notes for Mari 2.0v2: here
About The Foundry
The Foundry was established in 1996. It is now the fastest-growing company in its field today, and is internationally renowned for its product design and collaborative and open approach to development.
Led by CEO Bill Collis and a management team that still includes the original founders, The Foundry is backed by The Carlyle Group with a substantial portion still owned by the staff.
In September 2012, The Foundry merged with Luxology, an independent US-based technology company. As a joint entity the company develops award-winning computer graphics and visual effects (VFX) software used globally by leading artists and designers.
The Foundry has a stable of award-winning 2D and 3D VFX software including its industry standard compositor NUKE. Luxology is well known for its innovative 3D modelling and rendering technology and its flagship product, modo.
This rapidly growing global company now has more than 200 employees distributed between its London, Mountain View and Los Angeles offices.
Name: The Foundry Mari
Version: (64bit) 2.0v2
Home: www.thefoundry.co.uk
Interface: english
OS: Windows / Linux
Size: 407.0 mb
---
 Download freakshare
http://freakshare.com/files/07zb0tan/tfma202.rar.html
Download filefactory
http://www.filefactory.com/file/2eosiu6336z7/n/tfma202.rar
Download uploaded
http://uploaded.net/file/2y472z1i/tfma202.rar
Download 城通网盘
http://www.400gb.com/file/27981864
Download 百度云
http://pan.baidu.com/share/link?shareid=145790602&uk=3912561637
Download freakshare
http://freakshare.com/files/s422ia8f/tfma202Li.rar.html
Download filefactory
http://www.filefactory.com/file/309yvg33t8ir/n/tfma202Li.rar
Download uploaded
http://uploaded.net/file/zfzrpdxt/tfma202Li.rar
Download 城通网盘
http://www.400gb.com/file/27981865
Download 百度云
http://pan.baidu.com/share/link?shareid=149759350&uk=3912561637