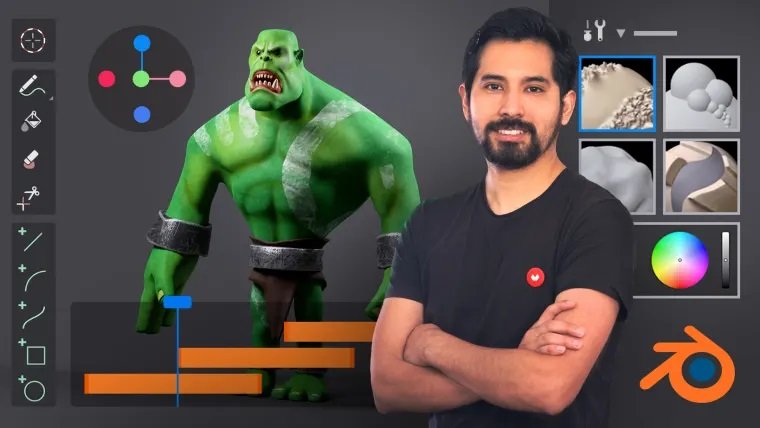 Video: MPEG4 Video (H264) 1920×1080 25fps 729kbps | Audio: AAC 44100Hz stereo 128kbps
Genre: eLearning | Level: BEGINNER | Duration: 52 Lessons (7h 36m) | Language: Spanish
Subtitles: N/A | File size: 2.8 GB
Aprende a dominar las herramientas básicas del software para crear contenidos audiovisuales 2D y 3D como un profesional
Learn how to master the software's basic tools to create professional-quality 2D and 3D content
Actualmente, la versatilidad y la agilidad son dos requisitos a tener en cuenta a la hora de crear contenido audiovisual de calidad. Por eso, Blender será tu nuevo mejor aliado, ya que combina ambos conceptos en un solo software.
En este Domestika Basics de 7 cursos, aprenderás a dominar las herramientas básicas de Blender, descubriendo todas las soluciones de composición, animación y edición de imágenes y videos. Con el artista digital Carlos Sifuentes como guía, podrás crear contenido 2D y 3D como un profesional.
Comenzarás este viaje aprendiendo cuáles son las funciones principales del programa, cómo instalarlo y cómo navegar por su interfaz. Luego, explorarás los complementos opcionales que ofrece este software gratuito, conocidos como addons, viendo cómo descargarlos y activarlos.
En el segundo curso, verás los diferentes objetos que se pueden crear con Blender. Conocerás las principales características y propiedades de cada uno, y verás cómo editarlas rápidamente de diferentes formas.
A continuación, utilizarás las herramientas de pincel y escultura, incluido el modificador Remesh y el método de escultura dinámica Dyntopo para colorear, texturizar y dar forma a tus objetos.
Al llegar al cuarto curso, Carlos te enseñará los fundamentos de la animación con Blender, para dar vida a los objetos que creaste. Verás cómo funcionan las opciones de armatures, keyframes, timeline y graph editor. Luego, descubrirás la configuración de la cámara 3D y su combinación con otros objetos animados 2D.
En el quinto curso darás más realismo a tu animación, profundizando en la dinámica física entre diferentes objetos. Crearás piezas sueltas interactivas y definirás los detalles de elementos en constante movimiento, como tejidos y cabellos.
Luego, aprenderás a generar los efectos de luces y sombras, y cómo obtener una vista previa de tu trabajo final con dos herramientas diferentes. Así pues, verás cómo trabajar en Cycles para un renderizado de imagen o video tradicional, y en Eevee, que utiliza tecnología de videojuegos en tiempo real.
En el último curso de este Domestika Basics, harás los ajustes finales. Carlos te enseñará en detalle las herramientas Compositor y Video Sequence Editor para trabajar conceptos de composición, tratamiento de color, efectos y edición de video, audio e imagen.
Requisitos técnicos
⦁ Una computadora con Windows 10, macOS 10.12 Sierra (o superior) o Linux.
⦁ Blender 2.83.
⦁ Tableta (opcional)
Nowadays, flexibility and speed are requirements for creating high-quality audiovisual content. Blender is your best ally when it comes to combining these two needs in a single software.
In this 7-course Domestika Basics, learn to handle the basic tools in Blender, learning all its features for composition, animation, and image and video editing. Digital artist Carlos Sifuentes will be your guide and show you how to create professional-grade 2D and 3D content.
Start this journey by learning how to install the software, its main features, and how to navigate its interface. Then, learn about the optional add-ons this free software offers, including how to download and activate them.
In the second course, learn about the different objects that can be created using Blender. Discover the main features and characteristics of each object, and learn different techniques for editing them quickly.
Learn about the brush and sculpting tools, among them the Remesh modifier and the Dyntopo dynamic sculpture method, to color, texture, and shape your objects.
Next up, Carlos teaches you the basics of animation with Blender so you can give life to the objects you have created. See how the armatures, keyframes, timeline, and graph editor work. Then, discover how to set up a 3D camera and how it works together with other 2D animated objects.
In the fifth course, add realism to your animation by going deeper into the physical dynamics between different objects, creating interactive loose particles, and defining the details of elements that are in constant movement like fabric and hair.
Learn how to generate light and shadow effects and see how to preview your final work using two separate tools. Learn how to work on Cycles, for traditional image or video rendering, and Eevee, which uses real-time video game technology.
In the last course of this Domestika Basics, enter the final adjustments stage. Carlos teaches you all the details to look out for in the Composer and Video Sequence Editor tools. Work on composition concepts, color treatment, effects, and editing for images, audio, and video.
Technical Requirements
⦁ A computer with Windows 10, macOS 10.12 Sierra (or higher), or Linux.
⦁ Blender 2.83.
⦁ A graphics tablet (optional).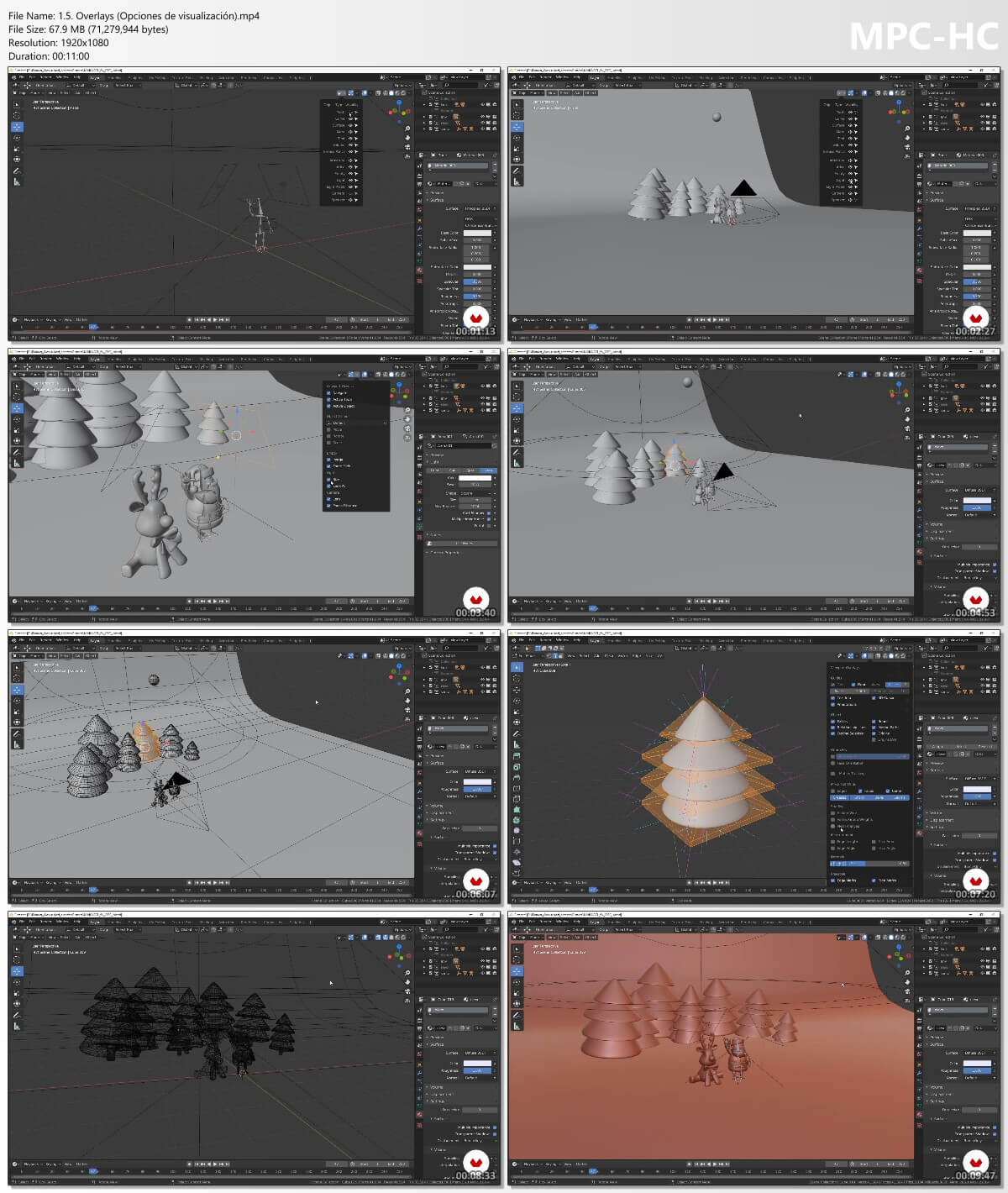 Password/解压密码www.tbtos.com
Download rapidgator
https://rapidgator.net/file/e3cb70b570552e2c59abc83fbf2638ec/0816_33.z01.html
https://rapidgator.net/file/d67c7add097e52294ce57d65e2d63123/0816_33.z02.html
https://rapidgator.net/file/bb86c3f693f21e6e95ed592db3ba9229/0816_33.zip.html
Download nitroflare
https://nitro.download/view/75561F283DEE114/0816_33.z01
https://nitro.download/view/98BB2B3ED279475/0816_33.z02
https://nitro.download/view/22806417AC98A0C/0816_33.zip
转载请注明:0daytown » Domestika – Blender para principiantes (Blender for Beginners)