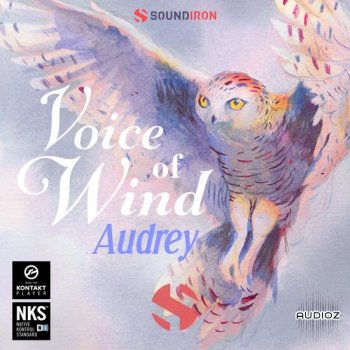 Team DECiBEL | 08 Aug 2021 | 2.39GB
Voice Of Wind: Audrey is the third volume in our modular female solo vocal series Voices of Wind. Each volume focuses on a new vocalist with a distinct creative style and comes complete with a full package of vital chromatic and melodic articulations that sound great and are easy and convenient to use in any music or video production project that comes your way. This edition focuses on the wise and charming mezzo-soprano voice of Audrey Howitt. Her stirring, airy, and dulcet vocal character effortlessly fuses classical, operatic, folk, blues, pop, and mystical vocal styles.
This 2.38 GB library includes over 3,200 samples, featuring sustain, staccato (8x round-robin) and true legato chromatic articulations for 6 core vowels: Ah, Eh, Ee, Mm, Oh and Oo. It also includes over a thousand live dynamic, melodic phrases organized by mood, key and tempo. This huge collection of live phrases are divided into 100bpm and 140bpm tempos for both Bright and Dark categories, as well as a special 120bpm Hummed category. We've also included 20 sound-designed custom FX and ambient presets to expand your creative palette. It all comes together in a complete, efficient and deeply-refined toolbox of chromatic articulations and powerful melodic elements with tempo-syncing and key options, all built into a flexible, full-featured user interface.
CONTENTS
This Kontakt library features true legato, plus an array of staccato syllables with 8x round-robin, spanning over two playable octaves. A huge collection of live phrases that are divided into 100bpm and 140bpm tempos for both bright and dark categories, as well as a special 120bpm hummed category. The phrases are intuitively organized by root tempo and mood. However, tempo-syncing, time-stretching and pitch transposition controls give you complete freedom to customize. You can also shape, blend and sequence phrases, with our phrase-legato, step sequencer, speed-control and live waveform editing. The library includes 20 sound-designed custom FX and ambient presets to expand your creative palette. We've also included our comprehensive FX Rack, with compression, delay, filter, EQ, amp/speaker simulation and convolution reverb, featuring dozens of rooms, cathedrals and otherworldly fx to open endless possibilities.
We recorded Audrey in a dry studio environment, using a high dynamic range, large-diaphragm Neumann studio microphone and Sound Devices preamps to get maximum detail, clarity, fidelity and clean dynamic range. This library is NKS compatible so you can use it seamlessly in Kontakt 6 Player and Komplete Kontrol.
Product Specs
– 2.38 GB Installed
– 3,254 Samples
– 28 powerful NKI instrument banks in Kontakt 6 Player format
– 20 Custom Sound-Designed FX and Ambient presets
– 24-bit, 48 kHz Stereo Lossless NCW Format
– Made for the free Kontakt Player (version 6+), Komplete Kontrol, all S-Series Keyboards and NKS software and hardware by Native Instruments
– Works with the Kontakt "Libraries" browser and Native Access
System Requirements
This Powered-By-Kontakt Player Edition is supported by version 6 or later of the free Kontakt Player (VST, AU, AAX) and the special "Libraries" rack. Windows 7 or higher required for PC. OSX 10.12 or higher required for Mac. Dual Core CPU, 3+ GB System Ram, SATA or SSD hard drive recommended for this library.
转载请注明:0daytown » Soundiron Voice Of Wind: Audrey KONTAKT-DECiBEL