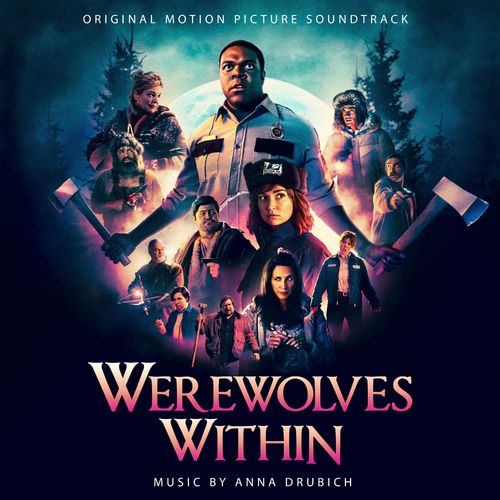 FLAC (tracks), Lossless | 23:21 | 156 Mb
Soundtracks, Pop
Werewolves Within is a 2021 American comedy horror film directed by Josh Ruben from a screenplay by Mishna Wolff, based on the video game of the same name from Red Storm Entertainment.
Werewolves Within had its world premiere at the Tribeca Film Festival on June 16, 2021. It was released in a limited release on June 25, 2021, followed by video on demand on July 2, 2021, by IFC Films. The film received generally positive reviews from critics.
Anna Drubich is an award-winning film composer from Moscow.
Her diverse body of work includes live action features, animated features, television series, documentaries and plays and concert halls across the world. Anna has scored over 35 major film and TV projects from the US, Denmark, Germany, Russia, Spain and Egypt.
Her most recent film work includes the Russian period piece Odessa and a co-score with Oscar-nominated composer Marco Beltrami on the Guillermo Del Toro adaption Scary Stories to Tell in the Dark.
Tracklist:
01 – Anna Drubich – Our Neighbors (0:36)
03 – Anna Drubich – Beaverfield Gossip (1:23)
05 – Anna Drubich – Old Fashioned Sleepover (1:13)
06 – Anna Drubich – Stormf*cked (2:01)
07 – Anna Drubich – Cha Chi's Collar (1:07)
08 – Anna Drubich – Finn Takes Control (0:53)
09 – Anna Drubich – Just Standoff (1:44)
10 – Anna Drubich – Trish Suspects (1:16)
11 – Anna Drubich – Trespass and Die (1:57)
12 – Anna Drubich – She's Probably Tanked (1:50)
13 – Anna Drubich – Pipe Fight (2:17)
14 – Anna Drubich – Knife Hands (1:44)
15 – Anna Drubich – Trish Takes Hostages (1:17)
16 – Anna Drubich – Promise You're Not Gonna Die (1:58)
18 – Anna Drubich – Werewolves Within (2:05)
https://rapidgator.net/file/705b650324e508254bb4d072649075cb/0804_59.zip.html
Download nitroflare
https://nitro.download/view/B42ACB5EC051AC7/0804_59.zip