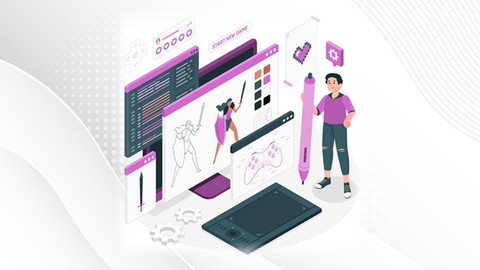 Genre: eLearning | MP4 | Video: h264, 1280×720 | Audio: AAC, 48.0 KHz
Language: English | Size: 8.55 GB | Duration: 10h 20m
Start building and publishing your own games using Construct
What you'll learn
Learn to build games for Mobile and Web with minimal coding expereince
Learn to master the Construct game engine
Learn to build multiple game clones.
Description
Learn & Understand Construct To Develop, Test, & Export Games From Scratch!!
As the internet, web apps, smartphone users grew; the gaming industry's growth has exploded. And with this, the demand for game developers who can efficiently develop, design, update & maintain games.
If you are into game development, then Construct might not be the new name for you. And if you are a beginner looking to learn Game Development, then Construct should be your first choice to begin your journey.
Considering the high demand, we have created this exclusive online course that aims to teach you professional game development with Construct from scratch. You will learn all the basics & fundamental concepts with a practical approach. In the end, it also includes a practical project that will make you more confident with developing, designing & testing the games.
Why Should You Learn Construct?
Popular game engine trusted by universities all over the world.
Perfect for beginners to master game development.
Flexible, affordable, and can be used purely as a prototyping tool.
Highly stable & a perfect tool for creating PC games.
How This Course Can Help You?
This to-the-point online course is designed for anyone who is looking to upskill for professional game development with Construct. This online Construct course is loaded with numerous practicals that will teach you to develop & design games in real-time.
This curation unfolds with a basic overview of Construct 3 along with all its features like layout, sprite editor, hitboxes, events & so on. During this course, you will get insights into animated tile movement NPC, spawning objects action, physics behavior, physics velocity, animations & so much more. After all the essential concepts, you will also learn about game testing & exporting. In the end, an exclusive project is also included wherein, you will be creating a 2D platformer similar to the 25m level of Donkey Kong Arcade.
Major Topics That You Will Learn
How to run a Construct?
Construct features
Sprite editor
Tile movement
Spawning events
Game physics
Game actions
Game testing
Export your Game to Windows/Mac/Android
Who this course is for:
Anyone who wants to build and publish their games on mobile or web will find this course very useful
---
Password/解压密码www.tbtos.com
https://rapidgator.net/file/fcdafd01e9e105ddc091c4777dfa0de3/0804_23.z01.html
https://rapidgator.net/file/3c69378544f324e3dd6198e2fe426ce4/0804_23.z02.html
https://rapidgator.net/file/bc14ab7dfe881d0ab64ae6cc213867ca/0804_23.z03.html
https://rapidgator.net/file/1ab9068579862b3f600e917fe513a269/0804_23.z04.html
https://rapidgator.net/file/34d1ac8dbc35de90756dd7c4115c2e71/0804_23.z05.html
https://rapidgator.net/file/94dddaafa67194332b911474469883db/0804_23.z06.html
https://rapidgator.net/file/b9a30546c9b41d02acae59f5e6a632b3/0804_23.z07.html
https://rapidgator.net/file/95185953ae1fe11df37e8fe34d21db80/0804_23.z08.html
https://rapidgator.net/file/5f38651939858a0d496c0fd27363d802/0804_23.zip.html
Download nitroflare
https://nitro.download/view/C29CAE95D833939/0804_23.z01
https://nitro.download/view/DCCB434EA29083C/0804_23.z02
https://nitro.download/view/49312E4DF033F0A/0804_23.z03
https://nitro.download/view/06B06B156F676DF/0804_23.z04
https://nitro.download/view/60582212C6489C0/0804_23.z05
https://nitro.download/view/A3D7595ABF02BA3/0804_23.z06
https://nitro.download/view/799A86D8463DEC6/0804_23.z07
https://nitro.download/view/67C7675C085DEB8/0804_23.z08
https://nitro.download/view/9BD34C9674FA5E9/0804_23.zip