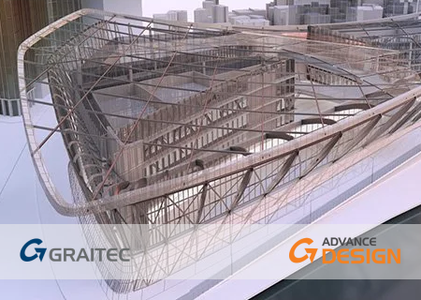 GRAITEC 很高兴推出最新版本的领先结构分析软件 – Advance Design 2022,它是 Graitec Advance 套件的一部分。 GRAITEC 一直致力于为其尊贵的客户提供一流的创新软件解决方案,最近推出的 2022 年全新和升级产品系列也不例外,证明他们在提供顶级产品方面仍然处于领先地位。全球建筑、AEC 和建筑设计软件解决方案。 上一个版本增强了许多新功能,为最终用户带来了很多好处。
Graitec Advance Design 是适用于在 BIM 环境中操作的结构工程师的 3D FEM 结构分析软件。 它对任何类型的结构、任何类型的荷载、混合钢筋混凝土、木材和钢构件和连接进行全面设计和详述。 它包括主要的代码标准(欧洲规范/加拿大裔美国人)。
---
Graitec Advance Design 2022.0 | 10.7 Gb
GRAITEC, an International software developer for AEC, is delighted to announce that Advance Design 2022 has been released. Based on the needs and requests of the ever-growing communities that have gathered around each software developed by Graitec, we have developed exciting new features to enhance all your structural projects
Advance Design 2022 what's new – Date release: June 2021
– Crane moving loads automatic generation considering single or multiple cranes.
– Extended FEM capabilities with a new Link on node, performance point calculation for pushover analysis according to EN1998 and ATC40.
– Cold Formed Sections design according to the EN1993-1-3 and EN1993-1-5 with detailed reports.
– Reinforced Concrete Slabs design module, including the strip design method and generating automatic 3D rebar distributions and reinforcement drawings.
– Enhanced calculation capabilities in RC modules, including new methods for the generation of longitudinal reinforcement for beams and columns, and new options for calculating the bearing capacity of footings.
– Increased capability of 3D reinforcement generation: arranging transversal reinforcement in columns has been made even easier.
– Faster analysis of steel connections thanks to the automatic generation of combination envelopes.
– New synchronization mechanism to streamline your BIM workflows with Autodesk platforms (Revit and Advance Steel).
– Tens of miscellaneous features considering our user's requests worldwide to improve efficiency on daily use.
– New synchronization mechanism to streamline your BIM workflows with Autodesk platforms (Revit and Advance Steel).
Version 2022 of Advance Design also comes with a big number of improvements and adjustments following the
feedback received from thousands of users worldwide. See below a list of new and improved features with descriptions.
Graitec Advance Design is 3D FEM structural analysis software for structural engineers operating in BIM Environment. It fully designs and details any type of structure, with any kind of loads, mixing reinforced concrete, timber and steel members and connections. It includes major code standards (Eurocodes / Canadian American).
GRAITEC is very pleased to present the latest version of the leading structural analysis software – Advance Design 2022, part of the Graitec Advance suite. GRAITEC has continuously strived to provide first-rate advancements for innovative software solutions to its valued customers, and the recent launch of its new and upgraded product range for 2022 is no exception, proving they are still top of their game in terms of providing top-level Construction, AEC and Building Design software solutions worldwide. Last release enhanced with lots of new functionalities with high benefits for the end-user.

Product: Graitec Advance Design
Version: 2022.0
Supported Architectures: x64
Website Home Page : http://www.graitec.com
Languages Supported: english
System Requirements: PC *
Size: 10.7 Gb
---
Password/解压密码0daydown
https://rapidgator.net/file/9674465eb3db005dbc166b5149a40b89/0802_11.z01.html
https://rapidgator.net/file/1e5f4fca5be7d9ff78ccf1c90941eb94/0802_11.z02.html
https://rapidgator.net/file/ea96323887741ef9d9cde263c606deaa/0802_11.z03.html
https://rapidgator.net/file/4bdd94de2e74a9dce3777351c07d02e2/0802_11.z04.html
https://rapidgator.net/file/50169a2fede4db4fa53dccaf44f9f321/0802_11.z05.html
https://rapidgator.net/file/2e0299164c212475bb516b41c77f5e00/0802_11.z06.html
https://rapidgator.net/file/6c62c66f038c7c50808a4921b46ca36b/0802_11.z07.html
https://rapidgator.net/file/8e3632e94b7246cee61ccbd38a4ee9aa/0802_11.z08.html
https://rapidgator.net/file/f00fb27f668ad32541564efcd9c5387a/0802_11.z09.html
https://rapidgator.net/file/770bc9bb5e90126b166ec4979cca804a/0802_11.z10.html
https://rapidgator.net/file/7749f2fe4970948f6134f5f954b3d0b9/0802_11.z11.html
https://rapidgator.net/file/46b10675ae2c5392aad90226f5c9caa3/0802_11.z12.html
https://rapidgator.net/file/ccfe44208ebad59081196815eef35eec/0802_11.zip.html
Download nitroflare
https://nitro.download/view/DD09CAB084285CC/0802_11.z01
https://nitro.download/view/AF6873F4310EFA5/0802_11.z02
https://nitro.download/view/68E1C2708AAA7D3/0802_11.z03
https://nitro.download/view/459CEAC69D2688B/0802_11.z04
https://nitro.download/view/0B2E4650E96EF21/0802_11.z05
https://nitro.download/view/5E1ECFD1D7C42FE/0802_11.z06
https://nitro.download/view/FCD76237799EF94/0802_11.z07
https://nitro.download/view/B50EDCB6343B964/0802_11.z08
https://nitro.download/view/5D7C4FF3267AB97/0802_11.z09
https://nitro.download/view/6E7DF5F52C5D177/0802_11.z10
https://nitro.download/view/CE1BFE36E70F8AB/0802_11.z11
https://nitro.download/view/3FF64194BE1DA69/0802_11.z12
https://nitro.download/view/FF946BCAA69FAC7/0802_11.zip