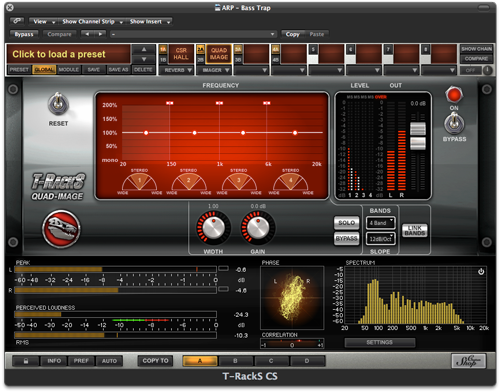 母带软件恐龙IK.Multimedia.T.RackS.CS 能够为您提供多功能的声波处理工具,用来对单轨进行修饰以及充分 mixes。软件中包含了T-RackS 经典和数字模块,精准的模拟老式装置,以及我们最新的Quad系列多频段母带处理器。 T-RackS CS 4.0 Grand 新增功能 : * 共有16个处理器:10款动态,3款均衡器,通道放大器组,去咝声(消齒音),图像器 * Quad系列处理器包括 Quad Comp, Quad Lim, Quad Image,以及 De-Esser * 新增英式通道,极为精准的动态EQ部分,最为传奇的 mixers 之一 * 可整合ARC System 2软件,单独使用 * 新SCC™ 技术结合IK独有的DSM™ 技术,在当今竞争激烈的虚拟装备提供了最具真实感的软件。 模式化预置极其容易使用,信号连可视化,一键式单模块或信号链旁同,"比较"功能,等等。
---
IK Multimedia T-RackS CS Complete v4.2 WiN | 89 Mb
Team R2R 2013.08.10
Close your eyes and picture a store full of cool processing gear: compressors and limiters are in a rack over here, EQs are over there – tube, solid state, digital – you name it, this store's got it all. There are reverbs, de-essers, multiband processors, and a shelf full of vintage emulations. In short, a candy store of tone for recording musicians, engineers, and producers.
Just a gear geek's fantasy? Nope, this store is very real, and it's available to you 24/7. It's the new T-RackS Custom Shop, where you can browse a huge collection of IK's high-quality processing plug-ins for mixing and mastering, and purchase only the ones you want, when you want them. And the best part is, you can get started without spending a dime by downloading T-RackS Custom Shop.
What's New in T-RackS CS ver 4.2
Changes from version 4.1:
• New Precision Compressor / Limiter module
• Support for 32 and 64 bit AAX plug-in format
• Improved modules category menus
• General reliablity improvements

R2R release note
Because IK CustomShop is not a library nor addon plugin, we stop using "UNLOCKED" tag. This is not a real change, just to make the things clear.
Because CustomShop requires internet connection, all previous T-RackS CS releases don't have most plugins version of the module seperately, and as a result, modules were only available in the T-RackS CS shell. This time, your R2R defeated their CS trick. All seperate module plugins are available here ?
Thanks to our installer coder for his great effort.
Our complete edition includes all modules currently available. All plugins format included.
T-RackS CS Standalone requires QuickTime runtime.
Platform: WiN32 – EXE/VST/RTAS/AAX, WiN64 – VST/AAX
IK.Multimedia.T-RackS.CS.Complete.v4.2-R2R
---
Download freakshare
http://freakshare.com/files/xfv6t5qp/IK.Multimedia.T-RackS.CS.Complete.v4.2-R2R.rar.html
Download uploaded
http://uploaded.net/file/ryvb5f1l/IK.Multimedia.T-RackS.CS.Complete.v4.2-R2R.rar
Download 城通网盘
http://www.400gb.com/file/27478315
Download 百度云
http://pan.baidu.com/share/link?shareid=3913790128&uk=3862216677