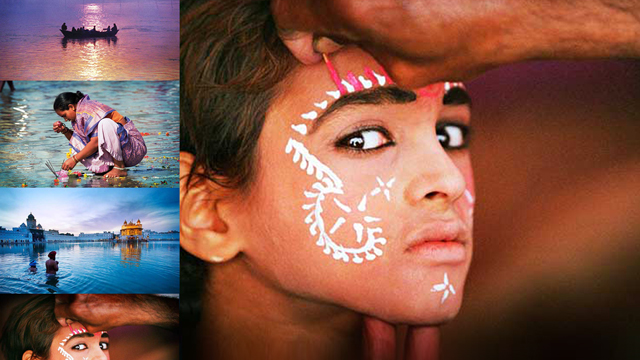 creativeLIVE – WordPress Galleries & Portfolios
English | h264, yuv420p, 854×480, 844 kb/s, 30.00 fps | aac, 44100 Hz, stereo, s16 | 4.66 GB
Genre: Video Training
There's a reason over 68 million bloggers and businesses use WordPress to bring their ideas to the world; it's the most accessible and powerful tool on the web. This hands-on workshop will walk you through how to make your site a visual masterpiece that showcases your brand and attracts new customers in the process.
Join Janine Warner for an in-depth tutorial to the tools, tips, and tricks for making your page visually stunning and effective in WordPress. You'll learn about choosing and installing the WordPress theme that best fits your needs. Janine will share best practices for optimizing for SEO, keeping your site updated, and integrating useful and dynamic plugins. You'll learn techniques for creating dynamic blogs, online image galleries, portfolios, and beyond.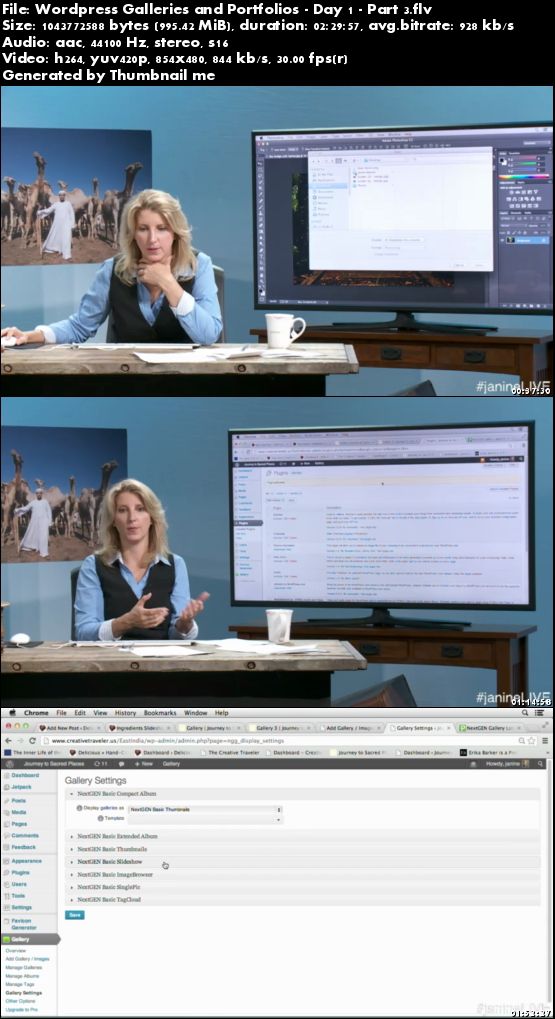 Whether you're a blogger, a graphic designer, or a visual artist, you'll leave this course ready to use WordPress to showcase and promote your work.
Session 1 August 5, 2013
Bonus Materials with Enrollment – WordPress Tips and Resources- Included
Day 1 Pre-Show
9:00 am – Introduction to WordPress
9:30 am – Web Hosting Options
10:15 am – How to Manually Move a WP Site
10:45 am – WordPress: Posts, Tags & Pages
11:45 am – WordPress Menu Items & Intro to Themes
1:15 pm – Optimizing Images
1:45 pm – Image Compression Controversy & Simple Themes
2:30 pm – Installing a Plug-In
2:45 pm – Skype Interview with Scott Wyden Kivowitz
3:15 pm – Creating a NextGEN Gallery
Day 1 Wrap-Up
Session 2 August 6, 2013
Day 2 – Pre-Show
9:00 am – Advanced WordPress: Custom CSS
9:30 am – GraphPaperPress Themes
10:15 am – Widgets
10:45 am – Skype Interview with Erika Barker
11:15 am – Reviewing Erika Barker's Site
11:30 am – Exploring Elegant & Photocrati Themes
12:45 pm – Skype Interview with Erin Manning
---
http://uploaded.net/file/db57ihtw/creativeLIVE.Wordpress%20Galleries%20and%20Portfolios.part01.rar
http://uploaded.net/file/r2xapgbg/creativeLIVE.Wordpress%20Galleries%20and%20Portfolios.part02.rar
http://uploaded.net/file/h00j7udm/creativeLIVE.Wordpress%20Galleries%20and%20Portfolios.part03.rar
http://uploaded.net/file/3u276xbz/creativeLIVE.Wordpress%20Galleries%20and%20Portfolios.part04.rar
http://uploaded.net/file/9pfaezmz/creativeLIVE.Wordpress%20Galleries%20and%20Portfolios.part05.rar
http://uploaded.net/file/7puieutd/creativeLIVE.Wordpress%20Galleries%20and%20Portfolios.part06.rar
http://uploaded.net/file/0hakkny7/creativeLIVE.Wordpress%20Galleries%20and%20Portfolios.part07.rar
http://uploaded.net/file/28ar6qtf/creativeLIVE.Wordpress%20Galleries%20and%20Portfolios.part08.rar
http://uploaded.net/file/4xvo3fpr/creativeLIVE.Wordpress%20Galleries%20and%20Portfolios.part09.rar
http://uploaded.net/file/k1zzijd4/creativeLIVE.Wordpress%20Galleries%20and%20Portfolios.part10.rar
Download 百度云
你是VIP 1个月(1 month)赞助会员,

转载请注明:0daytown » creativeLIVE – WordPress Galleries & Portfolios