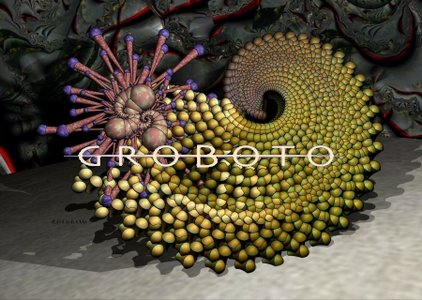 Braid Art Labs推出3D建模动画应用软件GroBoto。这款软件可以创建复杂的动画效果,易于使用。它的目标群体为十岁以上的人群。
 透过groBoto可以快速且直观地在数分钟里创建出三维图象,也可以很快在数分钟内看见令人激动和愉快的三维图象,可以完全支持MAC和PC作业平台。
这款软件的核心特征是:智能算法绘图工具;可以创建几何形态,包括抽象和现实的;可以调整Bot性能,用户可以创建并保存没有限制的改变。
---
GroBoto v3.3.0 Mac OS X | 81.2 MB
Groboto is a set of 3D modeling, imaging and animation tools that let you create complex, dynamic, lyrical forms and animation with ease. All of our tools are designed to keep the creative flow alive. Instead of fighting with the software, you collaborate with it. You'll find yourself creating imagery you never knew you had in you.
For decades 3D Artists have been attracted to intuitive modeling with Simple Primitives, as well as the uniquely robust and powerful characteristics of Geometric Booleans. Unfortunately barriers remained between those systems and the ultimate goal, a High-Quality Mesh.
The results were unreliable, inelegant systems, limited in scope.
GroBoto has succeeded in building systems that combine Real-Time, True Geometry Boolean Editing with the capability of generating High Fidelity, Beautifully Structured Meshes — Automatically. These systems are both Robust and Sophisticated — Able to Automatically Mesh any Arbitrary, Complex arrangement of Primitives and Booleans and further, to Smooth and Stylize those Meshes creating sublime forms.
GroBoto 3.0 Key Features:
Real-Time Boolean Modeling and Editing in a Clean, Fully Rendered Workspace. True Primitives are used (not meshes), resulting in unparalleled complexity and subtlety of form.
Flex Tools that allow broad 'range-of-influence' editing of complex arrangements of Primitives and Booleans.
Intelligent, Snap, Align, Duplicate and Transform options that allow one to work naturally with the primitive forms keying on their innate properties and interrelationship.
Fully Automatic Mesh Generation. All (or any subset) of GroBoto's Geometry is combined into a single, unified mesh 'shell' . All Boolean trims and intersections are tracked with ultimate precision and converted into our 'SeamNet' mesh.
Mesh Density Control – locally and globally. True, procedural geometry means that meshes can be easily and automatically regenerated at different densities.
OBJ Mesh Export includes all the precision Seams (multi-row edge loops) as well as special UVs for selecting/masking/manipulating the elegantly structured elements of the model in other 3D apps.
---
Download filefactory
http://www.filefactory.com/file/4f29jbl73zd7/GROBOTO_V3.3.0_MACOSX.rar
Download uploaded
http://ul.to/6mx2cvvf
Download 城通网盘
http://www.400gb.com/file/26983786
Download 百度云
http://pan.baidu.com/share/link?shareid=2624537823&uk=758526017
转载请注明:0daytown » GroBoto v3.3.0 MacOSX