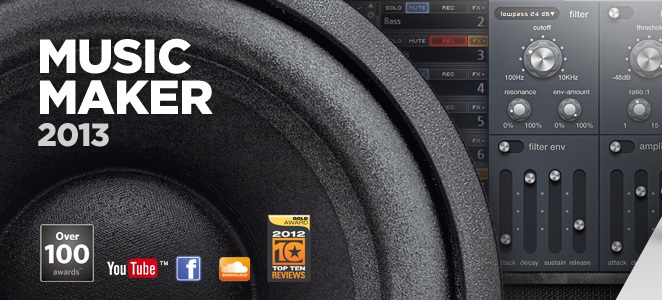 Magix Music Maker 是所有音乐工作者的最佳选择。通过这套软体音乐工作者们可以在几分钟之内制作出音乐,音轨。并可以用电子邮件把自己制作的第一首歌送给家人和朋友,或者在网际网路上发布。同时它提供了一些工具使人们在制作音乐时加入自己的才能和创造性。它是如此的易于使用,使音乐制作者可以任意发挥,可能性是无限的.
---
MAGIX Music Maker 2013 Premium 19 Content Pack | 5.80 GB
Want to create your songs? New MAGIX Music Maker 2013 Premium makes it easy and fast to create any song from a computer. It does not matter who you are: a beginner or a professional. A total of more than 6,000 professionals created sounds and loops of different musical styles – everything you need to create a good song. Simply combine the individual loops and create stunning new tracks.
With MAGIX Music Maker Premium 2013 just to make music that will delight you! In no time you will achieve amazing professional results even without any special skills or knowledge. Using the intuitive principle of placing a block loops, practical training videos and endless opportunities of our product, you will be able to write their own songs and immediately share them with friends.
Furthermore tools Vita allow you to conveniently and quickly create your own tunes. With the help of their own records, such as singing, the charged energy of the original guitar riffs and keyboard melodies you make your songs memorable. One click of the mouse, you can upload your songs to SoundCloud, YouTube or Facebook Premier.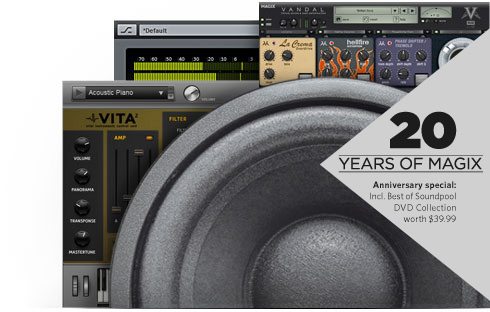 What's new?
In total, more than 6,000 sounds and loops of different genres: Rock Pop, Tech House, Hip Hop, Chillout, 90s Eurodance and Electric Jazz
Rock Drums: Heavy drums in high quality
String Ensemble: First-class stringed musical instruments
Vita 2: More features and a completely new sounds
essential FX Phaser: Catchy studio effects
New search: Instant search loops, samples and files
More tracks: Create projects with up to 99 tracks
Export Projects: Ability to handle projects MAGIX Music Maker 2013 MAGIX Samplitude Music Studio
Design and graphical shell: With improved access to musical containers
Customizable window: The interface can be customized according to individual preferences
Improved performance: Music Maker now works more stable and faster!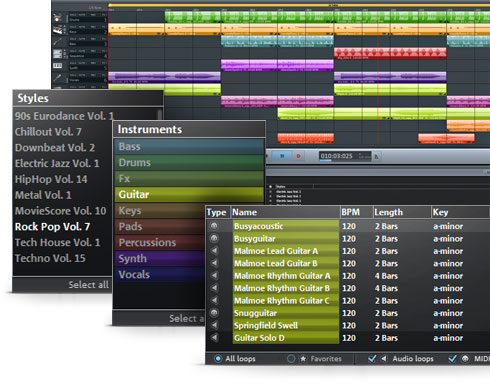 Extras. Information:
Want to make your own songs? It's even easier to create amazing songs on your PC using the huge variety of exclusive extras in the new MAGIX Music Maker 2013 Premium – it's the ultimate music program for beginners and pros.
More than 6,000 professionally produced sounds and loops from a range of musical genres provide everything you need to make great songs. Simply combine loops and play around to produce cool new tracks.
Create your own melodies using the Vita Instruments and make your productions stand out from the crowd. Make your song even more unique with your own vocal recordings, awesome guitar riffs or your own keyboard melodies.
With just one click your hit can make its world premier on SoundCloud, YouTube or Facebook.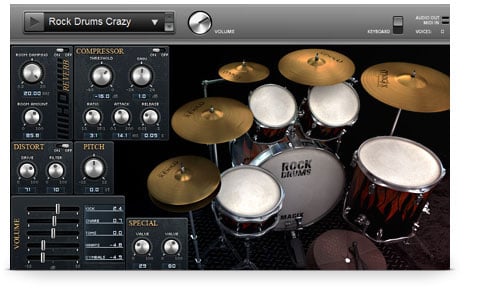 New features
NEW! More than 6,000 sounds & loops
NEW! Rock Drums: Realistic drums with amazing sound quality
NEW! String Ensemble: First-class string instruments for high-level productions
NEW! Bass Machine: Powerful and realistic bass sounds
NEW! World Percussion: Top quality percussion sounds from around the world
NEW! Vita 2: More features and brand new sounds
NEW! Unlimited Tracks: Create intricate projects with unlimited tracks
NEW! New Search: Find loops, samples and files super fast
NEW! Mastering Suite 4: Add the final touches using mastering effects
NEW! eFX Vocal Strip: Optimize vocal recordings and remove unwanted noise
NEW! Exchange Projects: Edit arrangements created in MAGIX Music Maker 2013 Premium with Samplitude Music Studio 2013
NEW! Design and User Interface: Now with an improved Soundpool
Installation recommendations:
1. To install the MAGIX Music Maker 2013 Premium, use the folder Setup, without installing Ask Toolbar.
2. Run the file MMM-2013-Update.exe, from the folder Update, to update to v19.0.5.57
3. Protein.dll copy from folder Crack in the \% installfolder% \ protein, replacing the original, or use the keygen, disabling antivirus. With the introduction of the generated serial number off the Internet.
4. When you first start the program, if replaced Protein.dll, click "Exit program".
5. Install additional banks of sounds and instruments from the folder Sound Packs.
6. In the folder MAGIX Vita Solo instruments installation files for additional tools and Concert Guitar Soundtrack Percussion, are not activation. You can activate them a unique serial number dialed by accident, if successfully done the trick with the protein, as previously described. If you wish, use the keygen. Do not worry if some anti-virus software will be swearing loudly. In such a case, turn off your antivirus for a while.
7. If more pleasant to work with the Russian interface, run files from Rus By Teodorrrro, and well respected Teodorrrro you get a nice interface in their native Russian language. If there is a nostalgia for the English interface, it can be selected from the File menu, the menu language.
8. Create music with pleasure!
System requirements:
– Microsoft ® Windows ® 8 (32 – and 64-bit)
– Microsoft ® Windows ® 7 (32 – and 64-bit)
– Microsoft ® Windows ® Vista ® (32 – and 64-bit)
– Microsoft ® Windows ® XP (32-bit)
Home Page : http://www.magix.com/us/music-maker
---
Download filefactory
http://www.filefactory.com/file/4j4pnssju2mr/n/MAGIX.Music.Maker.2013.part1.rar
http://www.filefactory.com/file/3b4br61bov4d/n/MAGIX.Music.Maker.2013.part2.rar
http://www.filefactory.com/file/4o389zzqtq2f/n/MAGIX.Music.Maker.2013.part3.rar
http://www.filefactory.com/file/3ynihw0svfi7/n/MAGIX.Music.Maker.2013.part4.rar
http://www.filefactory.com/file/16ig4uj3ie1l/n/MAGIX.Music.Maker.2013.part5.rar
http://www.filefactory.com/file/zo6v7twmlld/n/MAGIX.Music.Maker.2013.part6.rar
http://www.filefactory.com/file/bjn3naaowvp/n/MAGIX.Music.Maker.2013.part7.rar
Download uploaded
http://uploaded.net/file/00r5ucjs/MAGIX.Music.Maker.2013.part1.rar
http://uploaded.net/file/hd4qvfly/MAGIX.Music.Maker.2013.part2.rar
http://uploaded.net/file/k5pvtxiu/MAGIX.Music.Maker.2013.part3.rar
http://uploaded.net/file/588es7e5/MAGIX.Music.Maker.2013.part4.rar
http://uploaded.net/file/v9805moy/MAGIX.Music.Maker.2013.part5.rar
http://uploaded.net/file/41rjp0kr/MAGIX.Music.Maker.2013.part6.rar
http://uploaded.net/file/i7oto8wu/MAGIX.Music.Maker.2013.part7.rar
Download 百度云
你是VIP 1个月(1 month)赞助会员,

转载请注明:0daytown » MAGIX Music Maker 2013 Premium 19 Content Pack