OptimumKinematics(以前称为OptimumK)是由工程师经过多年的客户和顾客要求类似的汽车处理问题有类似挑战的悬架设计。OptimumKinematics 是第一代动力学分析软件。它有着特别友好的用户界面,使过程的计算机辅助设计和分析悬架更快和更方便。
OptimumKinematics 主要特点:
直观友好的布局,分为三个模块设计、运动和分析;
交互式3D可视化,这允许简单的检查和修改悬挂设计;
精度 超过400的数据通道,可以互相策划或表列在一份报告中。很容易从多个设计迭代比较结果在可定制的图表和报告表格;
快速和可靠的解算器- OptimumKinematics已经成功测试了与领先的CAD软件包和测试数据的收集在汽车实验室。
OptimumKinematics 2.0.2 | 154.0 mb
OptimumKinematics has been developed with the goal of providing users with a powerful kinematics tool that is both easy to use, and easy to integrate into your existing workflow.It can be used to rapidly simulate the kinematic properties of a suspension design, providing detailed output and visualization for a broad range of output channels.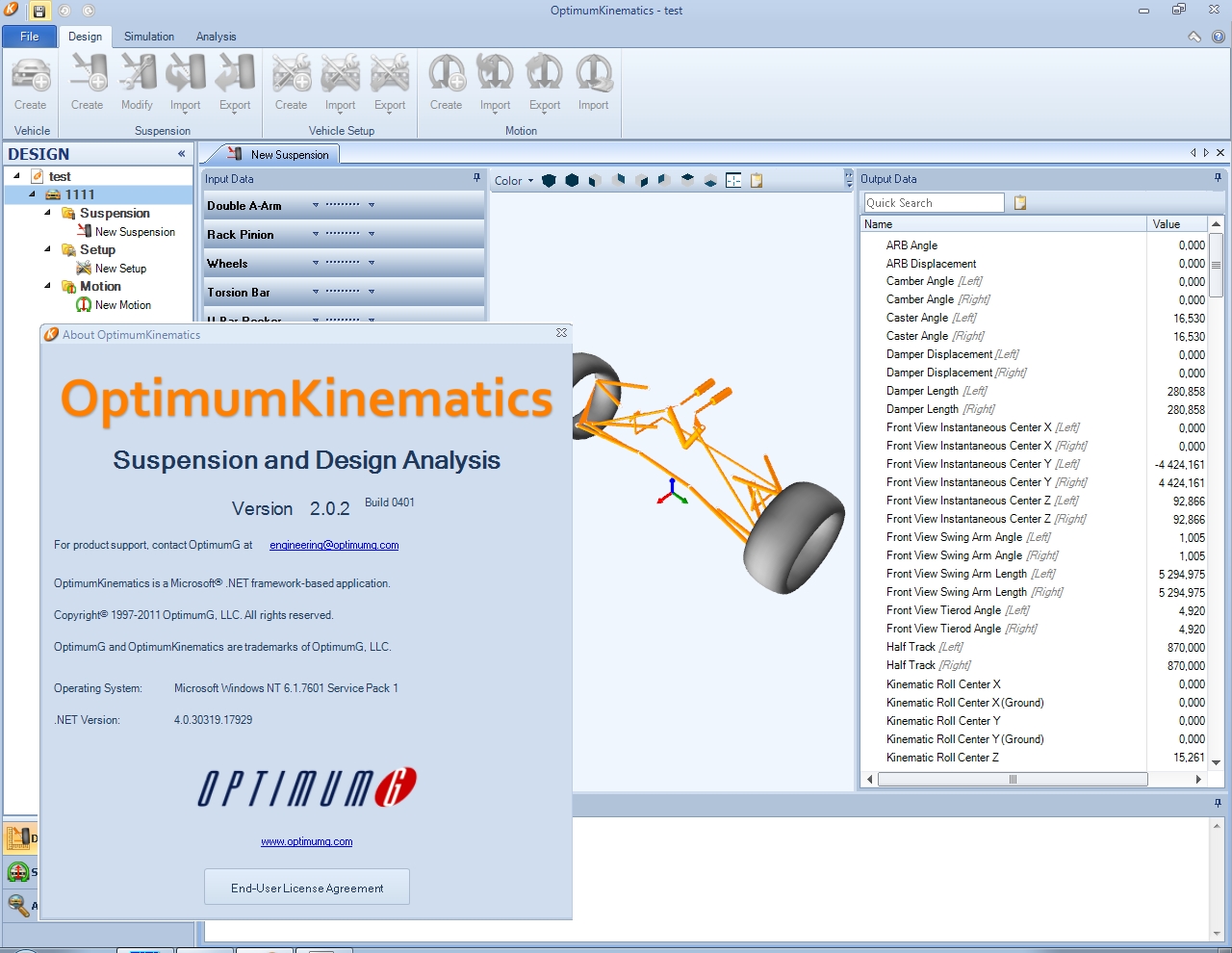 Key features
– Intuitive user-friendly layout that is split into three sections – design, motion and analysis – enables you to work faster and smarter.
– Interactive 3D visualizations that allows for easy inspection and modification of the suspension design
– Accuracy with over 400 data channels which can be plotted against each other or tabulated in a report. Easily compare results from multiple design iterations in customizable graphs and report tables.
– Fast and reliable solver – OptimumKinematics has been successfully tested against the leading CAD software packages and test data collected at automotive laboratories
– Direct application to car design and setup with tools for Design of Experiments and flexibility in terms of units and coordinate systems
More info: here
About OptimumG 
OptimumG offers vehicle dynamics, data acquisition and training solutions to the international racecar industry. Established in 1997, OptimumG has evolved from a small, one man operation to an established industry leader providing its clients with custom and developed software solutions, private and public training seminars, consulting services to aide clients in any aspect of racing, car/tire development and design, data acquisition, and much more.
Name: OptimumKinematics
Version: 2.0.2 Build 0401
Home: www.optimumg.com
Interface: english
OS: Windows XP / Vista / Seven
System Requirements: .NET FrameWork 4.0 and SlimDX preinstall
Size: 154.0 mb
Special Thanks SSQ
---
Download filefactory
http://www.filefactory.com/file/760iof354sg5/tiopki202.rar
Download uploaded
http://ul.to/yg1rs0vv
Download 城通网盘
http://www.400gb.com/file/26650008
Download 百度云
你是VIP 1个月(1 month)赞助会员,