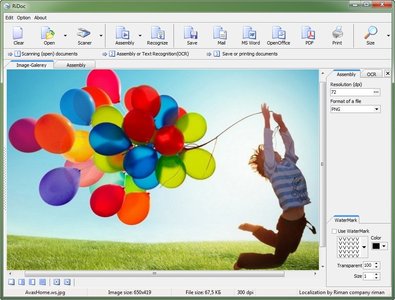 RiDoc是一款从扫描仪获取图像和减少图像文件大小的程序
---
RiDoc 4.3.1.2 | 9.0 MB
Languages: English, Armenian, Russian
RiDoc – the program for getting images from a scanner and reduction image files sizes. The programme provides an opportunity to reduce the size of the electronic version of documents or image files without losing information quality. 
Main options: 
Getting the electronic version of the document from a scanner. 
Saving the assembly-file in different graphic format (bmp,jpeg,tiff,png). 
Creating a gallery of scanned documents and images. 
Export of electronic document into MS Word. 
Export of electronic document into PDF file. 
E-mailing of an assembly-file. 
Virtual printer RiDoc. 
Download filefactory
http://www.filefactory.com/file/6f0rjtlw3db/n/RiDoc.4.3.1.2.rar
Download uploaded
http://uploaded.net/file/t2lmbeuc/RiDoc.4.3.1.2.rar
Download 城通网盘
http://www.400gb.com/file/28736113
Download 百度云
http://pan.baidu.com/share/link?shareid=2499820853&uk=1328701476
Download freakshare
http://freakshare.com/files/5v1da0d1/RiDoc.4.3.1.0.rar.html
Download filefactory
http://www.filefactory.com/file/36oa43vvmssb/n/RiDoc.4.3.1.0.rar
Download uploaded
http://uploaded.net/file/uxu6t8nr/RiDoc.4.3.1.0.rar
Download 城通网盘
http://www.400gb.com/file/28153273
Download 百度云
http://pan.baidu.com/share/link?shareid=4126575057&uk=4013166309
Download filefactory
http://www.filefactory.com/file/27qk83v0c3c7/RiDoc.4.3.0.4.rar
Download uploaded
http://ul.to/477yad0c
Download 城通网盘
http://www.400gb.com/file/26348811
Download 百度云
http://pan.baidu.com/share/link?shareid=1014357647&uk=1563806493
转载请注明:0daytown » RiDoc 4.3.1.2