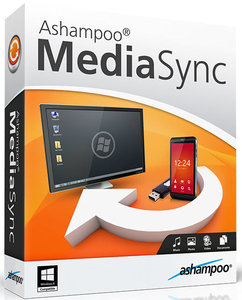 让一切都井井有条
不需要再花时间手动搜寻和管理你的文件了!Ashampoo Media Sync 可以帮你扫描、识别和管理您的各种设备并进行分类(文档、音乐、图片、视频) – 全自动哦。
快速管理文件

不再杂乱无章!只需插入您的设备。MediaSync 就能完成剩下的一切! 
几秒就能完成设置

选择输入位置。选择输出位置。选择文件类型。完成! 
兼容所有能自动播放的设备

CD、DVD、U 盘、智能手机、数码相机等等。你能想得到的,MediaSync 就能支持它!
---
Ashampoo Media Sync 1.0.2 Multilingual | 9.7 Mb
Ashampoo offers a smart solution to sync files between your host PC and removable media, e.g. flash drives. The application handles time-consuming tasks such as manually collecting and organizing files. Ashampoo Media Sync automatically scans all connected devices, identifies file types and stores files by category (picture, document, music, video etc.).
Get organized automatically
Don't spend time hunting down and organizing your files manually! Ashampoo Media Sync scans, identifies and organizes your media for you into categories (Documents, Music, Pictures, Video) – automatically.
Files instantly organized
No more file chaos! Just plug in your device. MediaSync will do the rest! 
Setting up takes only seconds
Select input location. Select output location. Select file types. Done! 
Compatible with all autoplay-enabled devices
CDs, DVDs, flash drives, smartphones, digital cameras and more. You name it, MediaSync supports it!
Home Page – https://www.ashampoo.com
---
Download filefactory
http://www.filefactory.com/file/16qif3ck6ww5/Ashampoo.Media.Sync.1.0.2.rar
Download uploaded
http://ul.to/mso9ylv6
Download 城通网盘
http://www.400gb.com/file/26649978
Download 百度云
http://pan.baidu.com/share/link?shareid=3175600134&uk=1664437789
Download freakshare
http://freakshare.com/files/lm0pwk8a/Ashampoo.Media.Sync.v1.0.1-TE.rar.html
Download filefactory
http://www.filefactory.com/file/51l6tl0pcxcv/Ashampoo.Media.Sync.v1.0.1-TE.rar
Download uploaded
http://ul.to/uhej7ive
Download 城通网盘
http://www.400gb.com/file/23522649
Download 百度云
http://pan.baidu.com/share/link?shareid=1513304873&uk=993064768
转载请注明:0daytown » Ashampoo Media Sync 1.0.1 Multilingual 同步所有设备 – 即刻完成