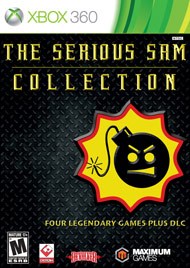 Scene group COMPLEX released Xbox360 PAL collection of epic Serious Sam games. Enjoy!
Description: Follow the legendary hero, Sam Serious' Stone, in his quest to destroy the alien overlord, Mental, in The Serious Sam Collection – now with even more enemies and weapons. Prepare to unleash your inner beast and battle wave after wave of invading alien hordes! Featuring four of the best Serious Sam games ever made, The Serious Sam Collection has been updated with enhanced visuals, lush landscapes, improved textures and character models in high definition. With an arsenal of chainsaws, flamethrowers, rocket launchers, sniper rifles and more, this is some serious first-person shooting action!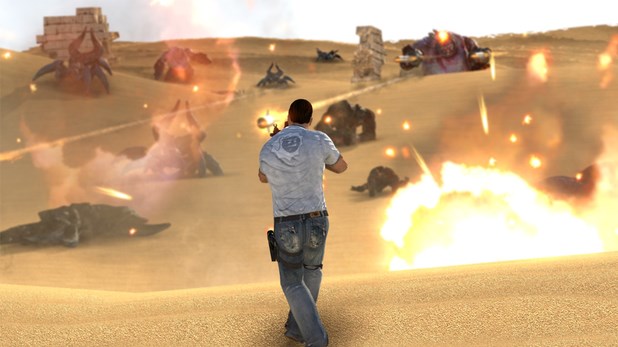 Features:
Experience the high-energy first-person arcade action
Travel to the 22nd century when twisted monsters return to Earth in an aim to destroy humanity
Fight alien beasts with insane weaponry
Brilliantly updated visuals
HD environments include alien planets, ancient Egyptian pyramids, tropical rainforests, and more
Features single-play, survival and cooperative play
Exciting multiplayer action: play through Campaign Mode with up to 16 players or challenge friends in 'versus' modes like Deathmatch and Beast Hunt
Games Included:
Serious Sam HD: The First Encounter: Get acquainted with the classic hero as he is sent back through time to ancient Egypt to battle the overwhelming forces of Lord Mental and the Sirian army.
Serious Sam HD: The Second Encounter: Continue your battle against Mental's army with the classic over-the-top action, crazy humor and horror from the golden age of first-person shooters.
Serious Sam 3: BFE (plus Jewel of the Nile DLC pack): The utterly addictive third installment of the Serious Sam series that brings you back to where the story all began: Before the First Encounter!
Serious Sam: Double D XXL: Part of the Serious Sam Indie Series, Double D XXL is a whole new brand of carnage and mayhem!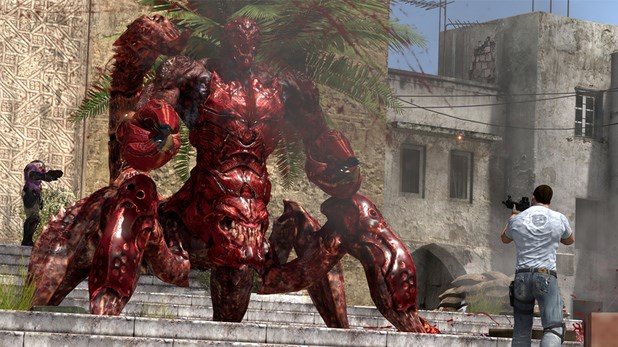 Publisher: Maximum Games
Developer: Croteam
Genre: Action
Release Name: The.Serious.Sam.Collection.PAL.XBOX360-COMPLEX
Size: 6.82 GB
Links: NFO | HOMEPAGE | GameStop
---
The Serious Sam Collection PAL XBOX360-COMPLEX
1gb:[UL/CZ/RYU/RG]http://uploaded.net/file/gp5xdazv/complex-tssc.part1.rar
http://uploaded.net/file/5zaskmeb/complex-tssc.part2.rar
http://uploaded.net/file/u2m3jyqr/complex-tssc.part3.rar
http://uploaded.net/file/0h1xajzx/complex-tssc.part4.rar
http://uploaded.net/file/saklc2i2/complex-tssc.part5.rar
http://uploaded.net/file/x3y6adnk/complex-tssc.part6.rar
http://uploaded.net/file/oistc5x7/complex-tssc.part7.rar
or
http://cloudzer.net/file/rdiez7qj/complex-tssc.part1.rar
http://cloudzer.net/file/70yzgkyo/complex-tssc.part2.rar
http://cloudzer.net/file/gchc2vpe/complex-tssc.part3.rar
http://cloudzer.net/file/2atz50ui/complex-tssc.part4.rar
http://cloudzer.net/file/6nsqxwba/complex-tssc.part5.rar
http://cloudzer.net/file/we3umb4e/complex-tssc.part6.rar
http://cloudzer.net/file/0zdp9m90/complex-tssc.part7.rar
or
http://ryushare.com/16d40c9a48b2/complex-tssc.part1.rar
http://ryushare.com/16d40c9a48b3/complex-tssc.part2.rar
http://ryushare.com/16d40c9a48b4/complex-tssc.part3.rar
http://ryushare.com/4aab655a87a3/complex-tssc.part4.rar
http://ryushare.com/4aab655a87a4/complex-tssc.part5.rar
http://ryushare.com/4aab655a87a5/complex-tssc.part6.rar
http://ryushare.com/4b9439ff91eb/complex-tssc.part7.rar
or
http://rapidgator.net/file/c1a477b34c997eb5f506f3630948d916/complex-tssc.part1.rar.html
http://rapidgator.net/file/2120def5c63ceeb818240e53afe3691c/complex-tssc.part2.rar.html
http://rapidgator.net/file/f262444ee35ca6f553fc5a16772ebb2c/complex-tssc.part3.rar.html
http://rapidgator.net/file/5a09550eb9becbf66b34ed4080c256f6/complex-tssc.part4.rar.html
http://rapidgator.net/file/dc859c8598b50d5bfad109b8678fa531/complex-tssc.part5.rar.html
http://rapidgator.net/file/fa287f4ada981230f2b490a0e0a59c9e/complex-tssc.part6.rar.html
http://rapidgator.net/file/e5bec01b6b47bb41b66847d9e3e1a622/complex-tssc.part7.rar.html
VIP会员如果需要请留言即传入百度盘 详细见:http://www.0daydown.com/vip
转载请注明:0daytown » The Serious Sam Collection PAL XBOX360-COMPLEX