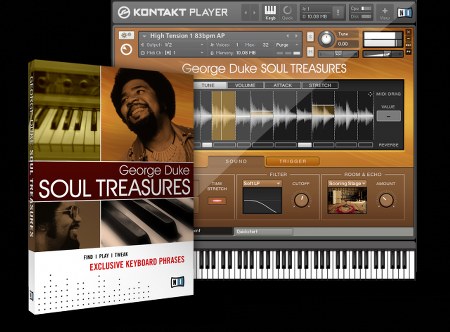 George Duke Soul Treasures(乔治公爵灵歌珍品)是一个新的软件乐器,灵歌传奇人物 George Duke(乔治公爵)的魅力键盘,适合于制作任意类型的音乐。
基于先进的 Kontakt 采样技术,该乐器提供超过 500 个独特的乐句片段,可以非常容易的修改和重新排列以适合任意的音乐上下联系,提供免版税的极富灵感的旋律元素资源,可以用于 Hip Hop,R&B,Soul,Funk,Disco,House 以及类似的风格。
George Duke Soul Treasures 捕获了独特的音乐风格,传奇的美国爵士和灵歌场景,具有与众不同的时尚并富情感的乐句片段,采样至最新的城市和舞曲音乐。声音工程师 Erik Zobler 与 George Duke 一起在其私人的三角钢琴,电钢琴,Wurlitzer 和 clavinet 上专门为这个签名软件乐器录制了超过 500 个原创的键盘乐句。
George Duke Soul Treasures 可以在免费的 Kontakt Player 上使用,也可以在全功能的 Kontakt 4 软件采样器上使用。因为 Kontakt 中高级的切片和时间伸缩功能,所有的 loop 都可以与音序器中歌曲的速度同步,并且可以调节,重定音高,甚至于可以实时的通过一个直观的键盘触发方案来完全重新排列。
创新的声音修改,各种多效果链可以通过键盘快速激活,带有一个灵活的滤波器部分和一个工作室级别的卷积混响,提供了极多的声音塑形项目。 George Duke Soul Treasures 中的每个乐句中都附加有"Tubes & Tape(电子管 & 磁带)"版本,它们是在 George Duke 的工作室经过高端的模拟录音链处理过的,可以得到更加复古的经典声音。
George Duke Soul Treasures 现已上市,可以在 NI 的在线商店购买,有DVD版本和下载版本,价格为 119美元/99欧元。
---
George Duke Soul Treasures Library for Kontakt | 3.51 GB
GEORGE DUKE SOUL TREASURES is a treasure trove for producers looking for instant soul for their tracks. Exclusively recorded for Native Instruments by American soul and jazz legend George Duke, over 500 soul-drenched keyboard loops are ready to go, and without the need to dig for samples through crates of dusty vinyl.
All loops are perfectly sliced and tempo-synced, and you can easily edit and re-arrange all slices to create countless phrase variations – providing an immediate harmonic basis without requiring advanced musicianship for your hip-hop, R&B or soulful electronic tracks.
STUDIO SOUL
This instrument contains acoustic, Rhodes, Wurlitzer and Clavinet pianos recorded by George Duke and his personal engineer Erik Zobler, using highly sought-after vintage equipment. Two version of each phrase are available – clean and 'Tubes & Tapes'. The signal was routed through various analog outboard gear before finally being sent through a Requisite Audio tube optical limiter, and recorded to an Ampex analog tape – adding that authentic, warm, soul brother flavor.
FLEXIBLE EDITING AND REARRANGING
Each phrase is divided into several slices, which can be triggered individually from any point in the loop, making it easy to re-arrange and create countless variations. Sound parameters like tune, volume, attack and stretch can be adjusted on the fly with every step visible via the Waveform Display.
Timing is flexible – KONTAKT's timestretching delivers pleasingly smooth results. You can also drag and drop a MIDI file into your host sequencer – including the timing information for triggering the slices – giving you maximum flexibility when building and finalizing the tracks in a DAW.
Eight different filter types and studio-quality convolution reverb and provide additional sonic possibilities, with each effect chain triggerable via a MIDI keyboard.
GEORGE DUKE – MASTER OF THE GAME
With five Grammy Awards to his name, George Duke's career has been a long and illustrious one, from the early days in the 60s as the George Duke Trio, right up to his recent work with Jill Scott. George's distinctive, funky style can be heard on records by such legends as "Cannonball" Adderley, Frank Zappa, Billy Cobham and Jean Luc Ponty, as well as on his own impressive discography. His production duties have included working with such luminaries as Smokey Robinson, Anita Baker and The Pointer Sisters, among many others, and have often been in collaboration with his long-time engineer and friend, Erik Zobler. A new generation of fans sprang up with the advent of hip-hop, as crate diggers found and used George Duke samples in numerous productions, including tracks by Kanye West, Ice Cube, MF Doom and even Daft Punk.
Home Page : http://www.native-instruments.com
---
Download uploaded
http://ul.to/f/adappy
Download 百度云 链接:http://pan.baidu.com/share/link?shareid=4254750386&uk=1580542749 密码:ffx6
(所有包添加5%恢复信息,如果解压出错,请尝试修复,不行再重下)解压密码:www.0daydown.com
转载请注明:0daytown » George Duke Soul Treasures Library for Kontakt 爵士乐传奇乔治·杜克 音色工具库