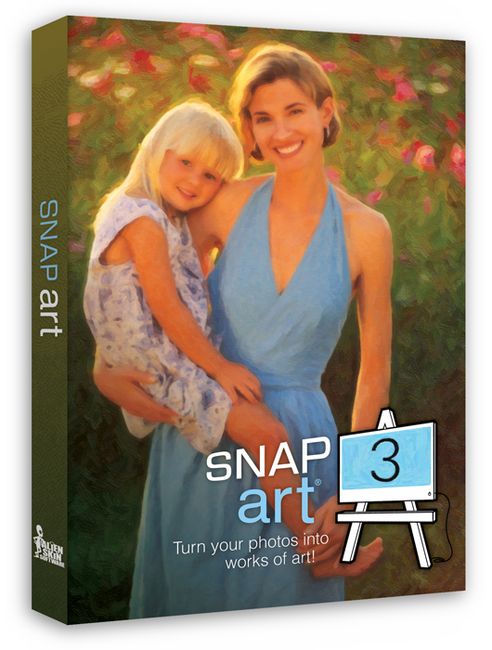 AlienSkin Snap Art 是一款PS手绘滤镜软件。它可以给任何一张图片渲染真实世界中包括油画、素描画,铅笔画、钢笔画、漫画等艺术效果!
Alien skin Snap Art 可以在简简单单一个步骤中创建美丽、自然的绘画效果。它可以给任何一张图片渲染真实世界中包括油画、铅笔画、钢笔画、漫画等艺术效果,Snap Art是一个可以替代繁重的手绘工作并比动作和笔刷更有效的插件
---
Alien Skin Snap Art 3.0.0.751 | Mac Os X | 21 MB
Snap Art 3 turns your photograph into a beautiful work of art that looks completely handmade. Improved realism in version 3 keeps your subject natural and recognizable. The result is a finished piece worthy of printing on canvas and hanging in a gallery. Using Snap Art 3 just requires a creative idea, not hand-eye coordination or technical training. Simply choose from hundreds of styles such as oil paint, watercolor, pencil sketch, or the new crayon. If you need more control, the new detail mask lets you quickly mark areas where you want the subject to be clearer.
Features
Snap Art 3 turns photos into art that looks completely natural and handmade.
Version 3 uses more refined stroke placement to keep edges sharp and reproduce natural texture. This keeps the subject natural and recognizable. If you used Snap Art in the past then you will notice dramatically clearer results, especially on portraits.
Instead of oval focus regions, Snap Art 3 now has a detail mask. This lets you quickly mark exactly where you want more detail. This is great for leaving backgrounds abstract while faces are detailed and natural.
Snap Art can draw with a wide range of physical media, such as oil paint, watercolor, pencil, and charcoal. Within those, you can choose from a plethora of styles like impasto, pointillism, or modern art techniques like comics and stylize.
System Requirements 
Macintosh: 64-bit Intel processor and Mac OS X 10.5 or later.
Host Requirements:
Snap Art 3 is a plug-in and requires one of the following host applications:
• Adobe Photoshop CS4 or later
• Adobe Photoshop Elements 8 or later
• Adobe Photoshop Lightroom 2 or later
---
Download filefactory
http://www.filefactory.com/file/4b5ngukozq07/ASSArt_3.0.0.751.zip
Download uploaded
http://ul.to/a5ma9rn5
Download 城通网盘
http://www.400gb.com/file/25369709
Download 百度云
http://pan.baidu.com/share/link?shareid=2364722723&uk=3342115309
转载请注明:0daytown » Alien Skin Snap Art 3.0.0.751 MacOsX PS手绘效果插件