这次Gangstar的故事发生在里约热内卢,身为黑帮分子的主角,为了给心爱的女人报仇,将在这里开始一场全新的冒险~与以往的侠盗系列一样,本作有着很大的自由度,玩家可以用自己喜欢的方式启动各个剧情任务,步行或是顺手"借"一辆拉风滴跑车都完全木有问题。如果你善于探索,会发现游戏中的人物场景要比两部前作更加丰富,会有更多的平民步行或者驾驶交通工具在城市街道上出现。现在你可以进入更多的建筑去完成任务,除去普通的摩托车和汽车,你甚至可以拥有飞机、沙丘越野车、坦克这些大型交通工具以及电锯和武士刀这样的强悍装备。
Gameloft将本作中的人物等级提升到了25级,玩家要通过大量的任务来完成升级,每升一级都可以获得的相应的技能点,以用来增强角色的属性使其更加完美无敌。该作的游戏场景非常多,人物表情也很细致,充分的游戏自由度、更多的武器与车辆、接近完美的3D渲染效果。
一条充满巴西风情的复仇之路,等待着每个寻求刺激的玩家!
---
Scene group Lz0PDA released version 1.1.4 of Gangstar Rio: City of Saints for Android. Hard, but great game! Enjoy!
Description: For the first time ever in a sandbox game, explore the city of Rio de Janeiro, Brazil. Discover 5 different neighborhoods including the favelas, business district, beaches and jungle.
Also, for the first time in the Gangstar series, explore indoor environments fully realized in 3D.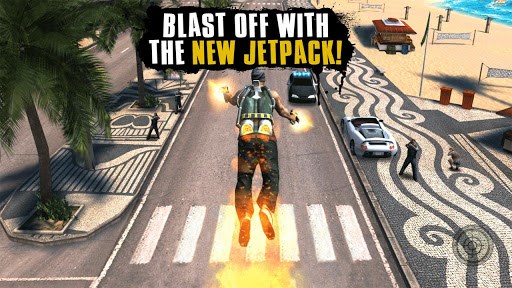 Features:
SEE RIO… AND FIGHT For the first time ever in a sandbox game, explore the city of Rio de Janeiro, Brazil. Discover 5 different neighborhoods including the favelas, business district, beaches and jungle.
Also, for the first time in the Gangstar series, explore indoor environments fully realized in 3D.
IT'S A LONG WAY TO THE TOP Over 60 varied missions to complete, plus dozens of random events to give you hours of fun.
Kill corrupt politicians, protect witnesses, deliver special packages, steal cars and find out who tried to kill you and leave you for dead.
SAY HELLO TO MY LITTLE FRIENDS Access a wide range of weapons like handguns, rifles, bazookas and grenades plus a new local specialty: the Explosive Football.
Also drive dozens of vehicles including planes, helicopters and a tank, and of course, you can steal, purchase and collect dozens of cars and motorbikes.
HAVE IT YOUR WAY You can now customize your character. Unlock numerous shirts, pants, hats, glasses and more that you can collect and use to customize your character.
ENTER THE REAL BRAZIL The realism has been pushed even further thanks to various radio stations broadcasting hip hop, electro and funk music with several licensed tracks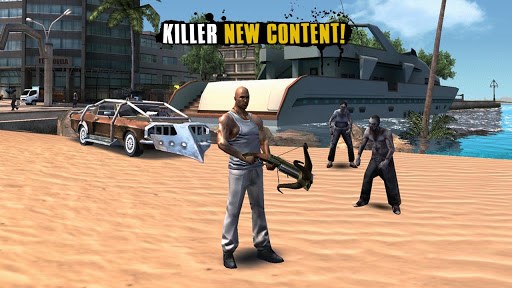 Release name: Gameloft.Gangstar.Rio.City.of.Saints.v1.1.4.Android-Lz0PDA
Requirements: Varies with device
Size: 842.20 MB
Links:  Google Play 
---
 Download filefactory
http://www.filefactory.com/file/16danebgqf79/Gameloft.Gangstar.Rio.City.of.Saints.v1.1.4.Android-Lz0PDA.rar
Download uploaded
http://ul.to/dz6csckd
Download 城通网盘
http://www.400gb.com/file/25222430
转载请注明:0daytown » Gameloft Gangstar Rio City of Saints v1.1.4 Android-Lz0PDA 里约热内卢:圣徒之城