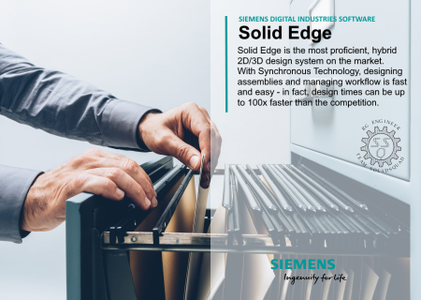 Siemens Solid Edge 2020 / 2021 Help Collection | 37.9 Gb
Languages Supported: 中文 (Simplified), 中文 (Traditional), Čeština, English, Français, Deutsch,
Magyar, Italiano, 日本語, 한국어, Polski, Português-Brazilian, Русский, Español
Siemens has launched Solid Edge 2020 / 2021 Help Collection for mechanical and electrical design, simulation, manufacturing, technical documentation, and data management. Solid Edge 2020 / 2021 Help Collection is multilingual release – it includes all 14 languages.
The 14 reasons why we love Solid Edge.The list combines feature/function top picks with other important aspects of Solid Edge such as the people, educational resources available to users, and ways we give back to the community.
Solid Edge help and training are available on a public Siemens web server, and by default, SolidEdge accesses it from that location. However, you may choose to install the Siemens PLM Documentation Server and he SolidEdge help and training files on your workstation or on your own server, and then configure Solid Edge to display it from there.
Installing a local help server can be very beneficial for you and your team. Perhaps your company doesn't allow internet access for most employees, or you work on a government contract that requires security measures that complicate internet access. Or maybe you just have very slow internet. How are your users going access the Solid Edge web served help?
Siemens and Solid Edge provide a way for you easily stand up a simple server for your users to access a local version of the web help. The default configuration can support one user robustly, or three to four users who only need occasional access. Since it can be deployed on a regular PC, it is not meant for a broad user base. If you have a server already available, you can install the help there for many users. Our system also supports all of the languages that Solid Edge is localized into.
These instructions are for anyone whose company is behind a firewall, that doesn't have internet access, or is not allowed open internet access. So that any SE user can have access to the help collection, since chm files are no longer sufficient to support all of the media types and learning that we develop for customers.
Siemens PLM Software, a business unit of the Siemens Industry Automation Division, is a world-leading provider of product lifecycle management (PLM) software, systems and services with nine million licensed seats and 77,000 customers worldwide. Headquartered in Plano, Texas, Siemens PLM Software helps thousands of companies make great products by optimizing their lifecycle processes, from planning and development through manufacturing and support. Our HD-PLM vision is to give everyone involved in making a product the information they need, when they need it, to make the smartest decision.
Product: Siemens Solid Edge
Version: 2020 / 2021 Help Collection
Supported Architectures: x64
Website Home Page : http://www.plm.automation.siemens.com
Languages Supported: multilanguage
System Requirements: Windows *
Software Prerequisites: Siemens PLM Documentation Server (included)
Size: 37.9 Gb
---
Password/解压密码www.tbtos.com
转载请注明:0daytown » Siemens Solid Edge 2020 / 2021 Help Collection