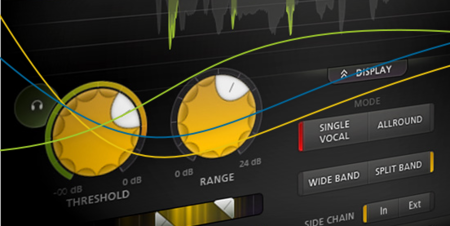 高品质的音频效果插件插件和合成器插件
---
FabFilter Plugins Pack 06.2013 | 60.9 MB (Total)
High-quality audio effect plug-ins and synthesizer plug-ins.
FabFilter Pro-L is a feature-packed limiter plug-in for mastering and mixing, with multiple advanced limiting algorithms and very accurate metering.
FabFilter Pro-Q is a top-quality EQ plug-in with zero latency and linear phase modes, up to 24 bands and a gorgeous interface for effortless editing.
FabFilter Pro-C is a professional compressor plug-in with flexible side chain and routing options and an innovative interface.
FabFilter Pro-DS is a highly intelligent and transparent de-essing plug-in, perfect for processing single vocal tracks as well as entire mixes.
FabFilter Pro-G is a highly flexible gate/expander plug-in with advanced side chain options and precise metering.
FabFilter Saturn is a multiband distortion, saturation and amp modelling plug-in, with lots of modulation options.
FabFilter Timeless is an ultra-flexible tape delay plug-in with time stretching, top quality filters and drag-and-drop modulation.
FabFilter Volcano is a versatile filter effect plug-in with state-of-the-art filter technology and endless modulation possibilities.
FabFilter Twin is a powerful synthesizer plug-in with the best possible sound quality and an ultra-flexible drag-and-drop modulation system.
FabFilter One is a basic synthesizer plug-in with just one oscillator, but with perfectly fine-tuned controls and the best possible sound and filter quality.
FabFilter Simplon is a basic and easy to use filter plug-in with two high-quality multi-mode filters and an interactive filter display.
FabFilter Micro is the ultimate lightweight filter plug-in with a single high-quality filter including envelope follower modulation.
Pack include:
FabFilter.Micro.v1.12-R2R
FabFilter.One.v3.22-R2R
FabFilter.Pro-C.v1.22-R2R
FabFilter.Pro-DS.v1.03-R2R
FabFilter.Pro-G.v1.12-R2R
FabFilter.Pro-L.v1.12-R2R
FabFilter.Pro-Q.v1.22-R2R
FabFilter.Saturn.v1.12-R2R
FabFilter.Simplon.v1.22-R2R
FabFilter.Timeless.2.v2.22-R2R
FabFilter.Twin.2.v2.22-R2R
FabFilter.Volcano.2.v2.22-R2R
Home Page – http://www.fabfilter.com/
转载请注明:0daytown » FabFilter Plugins Pack 06.2013 高品质的音频效果插件插件和合成器插件