《刀锋斯林格 Bladeslinger》是一款动作游戏,游戏背景设定在美式西部荒野,玩家将扮演手持枪刃的后现代牛仔,在小镇和荒野寻找遗失的图腾图案。游戏模式与无尽之剑有些相似,但要较其自由且多变,采用开放式的战斗设定,将允许玩家在一定范围内自由移动,灵活组合图腾卡牌、枪刃击败复数的敌人。

请在进入游戏前开启设备的自动旋转,同时将手机横放,否则会出现闪退现象。
---
DeBTPDA with another adventure/action game for Android. Enjoy!
Description: Selected as Editor's Choice in the iOS App Store, featured in *TegraZone* and rated 4/4 "Must Have" by critics, BLADESLINGER is a visually stunning, fast paced 3D action brawler developed exclusively for high-end mobile devices. BLADESLINGER follows the story of William Glaston as he returns to his hometown to confront an ancient evil. Featured by TouchArcade as App Users' Top Ten Most Anticipated Upcoming Games, identified as one of the best games of the year, Bladeslinger is now here!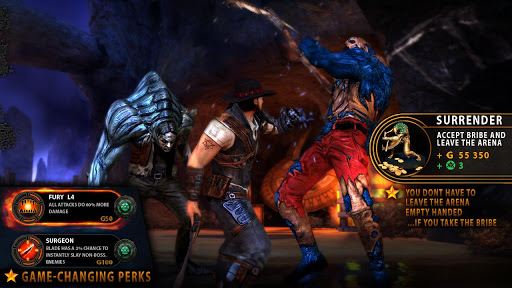 Features:
BEST MOBILE GRAPHICS YOU'VE EVER SEEN: Bladeslinger introduces graphics features never seen before on mobile devices. Multiple mind-blowing 3D environments and characters, dynamic lighting and shadows with no detail spared. As mobile games approach console quality, Bladeslinger pushes the bar further than ever before.
TOUCH-EXCLUSIVE CONTROLS & DESIGN: Bladeslinger takes full advantage of the flexibility and unique options for gaming with touch screen devices. Quick shooting, split second dodging, combo attacks, monster punching and punishing special moves — all achieved with simple, intuitive touch gesture controls.
HOURS OF THRILLING CAMPAIGNS: Multiple highly detailed and complex environments with escalating challenges will push you through hours of compelling, non-repetitive gameplay.
COMPATIBLE DEVICES: Bladeslinger is optimized Android devices with 512MB+ RAM, and offers additional graphics optimizations on NVIDIA Tegra devices.
REAL PERSON SUPPORT: We are personally here to answer your questions, and incorporate your feedback into ongoing improvements for Bladeslinger.
Release name: Bladeslinger.v1.4.0.Android-DeBTPDA
Requirements: Varies with device
Size: 430.34 MB
---
Download freakshare
http://freakshare.com/files/e8dhrhrt/Bladeslinger.v1.4.0.Android-DeBTPDA.rar.html
Download filefactory
http://www.filefactory.com/file/5n7d0ds4eaep/Bladeslinger.v1.4.0.Android-DeBTPDA.rar
Download uploaded
http://uploaded.net/file/h5wyczp4/Bladeslinger.v1.4.0.Android-DeBTPDA.rar
Download 城通网盘
http://www.400gb.com/file/23459917
Download 百度云
http://pan.baidu.com/share/link?shareid=2897495930&uk=993064768