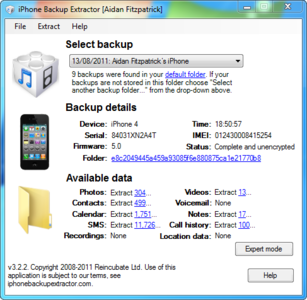 iPhone Backup Extractor是一款功能强大的iphone备份提取工具。他可以直接从iTunes上自动提取您的iPhone、iPad或iPod Touch的备份文件,能恢复用户的通讯录、图片、通话记录、彩信、短信和短消息、视频、语音信箱、日程表条目、笔记等数据信息。
    
    iPhone Backup Extractor会将提取的备份数据库自动转换成CSV、VCard或ICAL格式,因此这些数据可以很方便的导入Excel、Outlook或Webmail。该软件可以将整合的位置数据转换成KML文件格式,以便在Google Earth中使用。
---
iPhone Backup Extractor 4.0.15.0 | 5.1 MB
The iPhone Backup Extractor works on Windows (XP, Vista, 7), Mac OS X and Linux, with iPhone, iPod Touch, iPad, iPhone 3G, iPhone 3GS, iPhone 4, iPhone 4S, iPhone 5 backups from all versions of iTunes.
What can the iPhone Backup Extractor recover?
Our iPhone Backup Extractor software can recover contacts, pictures, call histories, MMS, SMS and text messages, video, voicemail, calendar entries, notes, app files, saved games, debug information and data that might otherwise be inaccessible.The iPhone Backup Extractor automatically converts the extracted backup databases into CSV, VCard or ICAL formats, so they can be easily imported into Excel, Outlook, or Webmail. It can convert consolidated location data into a KML file for use with Google Earth.
The iPhone Backup Extractor can extract files from the backups iTunes automatically makes of your iPhone, iPad or iPod Touch.
– 1,000s of satisfied users
– Easy to use software, no technical knowledge required
– No spyware or ads
– Powerful free version
– Built-in PList viewer
Homepage – http://www.iphonebackupextractor.com
---
Download freakshare
http://freakshare.com/files/i9mnjmxg/iPhone.Backup.Extractor.4.0.15.0.rar.html
Download filefactory
http://www.filefactory.com/file/61jqe1jpvqdf/iPhone.Backup.Extractor.4.0.15.0.rar
Download uploaded
http://ul.to/te12u0zk
Download 城通网盘
http://www.400gb.com/file/23348408
转载请注明:0daytown » iPhone Backup Extractor 4.0.15.0 iphone备份提取工具