使用Adobe Audition功能完善的波形组合、光谱显示和多音轨工具录制、编辑和建立音效文档。这个强大的声音编辑程序可加快音效制作的工作流程,并同时保有最高标准的声音品质。
  新功能
  声音消除器
  预览编辑器
  增强的多音轨编辑
  进阶的音效设计
  增强的光谱显示编辑
  细部调整音效
  ITU 音量测量
  64 位架构
  可供编辑的我的最爱动作
---
Description:
Adobe Audition CC empowers you to create and deliver beautiful audio using more connected tools and dozens of new features, including Sound Remover, which can eliminate unwanted sounds from an entire file just by analyzing a small selection. Adobe Audition CC gives you access to new features as soon as they're released and is integrated with other Adobe video tools for smooth start-to-finish audio and video production. Your entire creative world, together in one place. Only in Creative Cloud.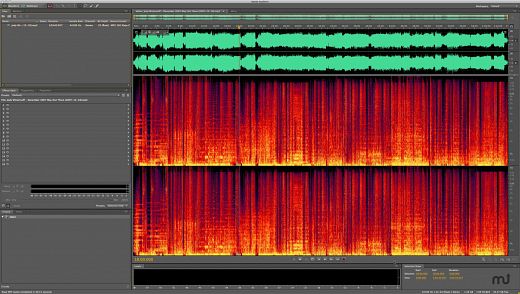 Version 6.0:
New: A more connected Adobe Audition – Adobe Audition CC is part of Creative Cloud. That means you have access to all the latest updates and future releases the moment they're available. Sharpen your skills and master new tools with a rich library of training videos. And with Behance integration, you can share your projects and get immediate feedback from creatives around the world. Learn more ›
New: Sound Remover – Easily remove specific audio elements in just a few clicks. Select a sample of the unwanted sound; Sound Remover will scan the entire clip and remove that element from the recording. Repair or restore dialogue and production audio to deliver pristine results faster.
New: Preview Editor – Confirm your edits before you commit. With Preview Editor, you can visually compare waveform tweaks, view multiple file sections simultaneously, and confirm time stretching before applying your changes.
New: Enhanced multitrack editing Clear and comprehensive clip handling, manipulation, and grouping tools save time by letting you craft large multitrack projects quickly, apply edits and effects to multiple clips, and organize audio within projects easily.
New: Advanced sound design – Adobe Audition includes many new and enhanced sound design tools, including Noise Generator and Pitch Bender, that let you create sounds and shape soundscapes to craft the perfect effect.
New: Enhanced Spectral Display – Edit audio with surgical precision using enhanced selection capabilities in the Spectral Display editor. Make multiple selections, create complex regions, and apply more accurate fixes with visual editing tools similar to those in Adobe Photoshop.
New: Audio finesse – Work efficiently with a streamlined interface. Dock panels to emphasize the tools you need most, and use new shortcuts, navigation tools, and timeline views to work smarter and finish faster.
New: ITU loudness metering – Conform to today's broadcast regulations with a loudness monitor you can reference as you work. The ITU Loudness Radar panel provides visual feedback so you can quickly find and fix audio passages that exceed volume limits.
Release Name: Adobe.Audition.CC.v6.0.0.MacOSX-P2P
Size: 303MB
Links: Homepage
---
Download freakshare
http://freakshare.com/files/mdpxr27a/Adobe.Audition.CC.v6.0.0.MacOSX-P2P.zip.html
Download filefactory
http://www.filefactory.com/file/65wl88566us1/Adobe.Audition.CC.v6.0.0.MacOSX-P2P.zip
Download uploaded
http://uploaded.net/file/eypx4d0z/Adobe.Audition.CC.v6.0.0.MacOSX-P2P.zip
Download 城通网盘
http://www.400gb.com/file/23319013