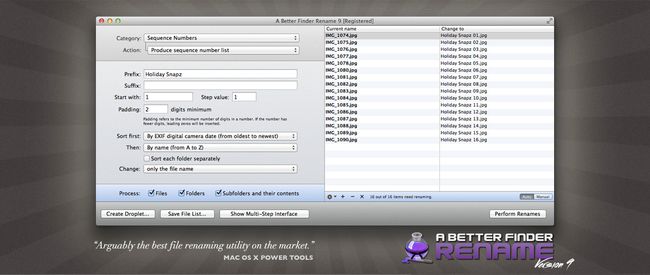 A Better Finder Rename 是一个特式功能菜单插件程序,可快速地同时更改多个文件名称,附有多种更改的选项。
---
A Better Finder Rename 9.22 | MacOSX | 7.1 MB
Building the ultimate file renamer takes time. That's why ever since 1996, we have made it our business to listen to our customers. A Better Finder Rename has long been the file renamer of choice for tens of thousands of professionals, businesses and hobbyists across the world, but that hasn't stopped us from continuing to perfect our product culminating now in the brand-new version 9.
New In Version 9
– Refined single window user interface
– Drag & drop manual ordering for sequence numbers
– Tag-based renaming actions
– Support for over 100 image, photo, camera, lens, music and other meta-data tags
Stunningly simple..
The user interface is designed from ground up to support even the most complex renaming tasks without sacrificing ease and speed of use. Simply drag the files you want to rename straight from the Finder into the large preview table.. or the application icon.. or use our Finder context menu and hot key. 
Our Instant Preview feature eliminates guesswork and costly errors and helps you find the right settings quickly and accurately by providing as-you-type feedback.
Yet devastatingly effective
A Better Finder Rename's huge array of renaming options are organized into 15 intuitive categories that cover all the text, character, position, conversion and truncation features that you would expect from a great file renamer. On top of this, A Better Finder Rename provides more advanced features that answer the prayers of many professionals and hobbyists alike.
Photographers in particular will find the advanced sequence number and date & time features a joy to behold. A Better Finder Rename knows how to extract EXIF shooting date and time information from your digital camera images and exploit them in creating sequence numbers or adding time and date information to the file name. Support for all major RAW formats (including JPEG, CRW, CR2, THM, NEF, TIFF, RAJ, ORF , MRW, DNG, PEF, SRF, etc.) extends this to professional photographers. A Better Finder Rename also deals gracefully with multiple shots captured in the same second.
Version 9 adds powerful tag-based renaming allowing access to image, color, camera, lens and other meta-data. In addition it is now possible to manually reorder sequence numbers directly by dragging and dropping files in the preview.
System administrators, web masters and other power users will appreciate the presence of advanced features, such as regular expression support, conversion to Windows NTFS/SMB compatible names, the ability to import file names from a database, a spreadsheet or any other source that can produce plain or tab-delimited text files. Finally, it allows you to save a record of the current and new file names to facilitate tracking your files.
Music lovers will be delighted by our MP3/AAC renaming feature that allows you to exploit the ID3 meta-data embedded in most music files to create their own naming schemes for their music collection. Meta-data information from MP3, AAC, FLAC, OGG, APE, M4V and iTunes music store files are supported.
Sometimes, however, a single renaming step is just not enough. Enter the multi-step renaming feature, that let's you combine and re-arrange multiple renaming steps into a single operation. 
For recurring tasks, A Better Finder Rename allows you to save common settings to droplet mini-applications and apply them automatically to all files dropped upon them. Version 9 adds support for saving and loading presets to facilitate the creation of your own renaming library. 
Beautiful inside & out
A Better Finder Rename takes file renaming to a new level of sophistication by introducing an advanced 64-bit multi-threaded renaming engine that solves many problems that other file renamers simply leave unaddressed. The database-backed renaming engine automatically resolves file name conflicts (when several files would share the same name) using a range of configurable parameters. The sequence in which files are renamed is optimized to avoid deadlocks which could occur when the order in which the files are renamed becomes significant.
Home Page – http://www.publicspace.net/ABetterFinderRename/index.html
---
Download filefactory
http://www.filefactory.com/file/5kbw34wqei8n/Publicspace.net.A.Better.Finder.Rename.v9.22.MacOSX.Incl.Keymaker-CORE.rar
Download uploaded
http://ul.to/11ywlwh1
Download 城通网盘
http://www.400gb.com/file/24951732
Download 百度云
http://pan.baidu.com/share/link?shareid=2068506948&uk=187696391