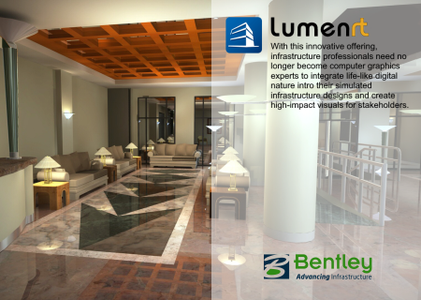 LumenRT Pro CONNECT Edition Update 16 (16.16.44.066) | 6.8 Gb
The MicroStation development team is pleased to announce the availability of LumenRT Pro CONNECT Edition Update 16 (16.16.44.066) is a complete system for transforming 3D models and designs into rich, nature-filled videos, images and real-time immersive media.
Bentley LumenRT Update 16 Enhancements
Following are the enhancements in Bentley LumenRT Update 16:
– Export nested reference structure as it is into LumenRT
– Named versions from same iModel while opening iModel inside LumenRT
– Add Export and Import of LumenRT movie clips editor
– Add ability to Enable Vehicle lights in scene
– Add a light toggle for individual cars.
– Add "look at" and "link" animation.
– Add system to trigger events.
– Camera Sync
New Parameters:
– LumenRTX "Ray Traced mode" (Tech Preview)
– Hide LumenRT terrain
– Add ability to show object as billboards
– Cut, Copy and Paste Text Info and Spline Populations
– Add contextual menu for Hierarchy Panel
– Link unlink option for elements link to animated objects
– New Material library has been added with existing library
LumenRT is revolutionary real-time visualization software that enables you to bring your projects to life with cinematic quality images, videos, and real-time presentations of your infrastructure design models immersed within the context of lifelike digital nature. LumenRT easily delivers environmentally coherent models and can speed stakeholder buy-in for all your projects.
LumenRT has been jointly developed with e-on software, which is widely acclaimed in the digital content creation (DCC) market, where its VUE and PlantFactory products are a mainstay among computer graphics (CG) professionals in the media and entertainment, science, and education industries. E-on's offerings have been used in the making of numerous blockbuster films, including Minions, Jupiter Ascending, How To Train Your Dragon, Avatar, The Hunger Games, The Avengers, Hugo, and Terminator.
Bentley Systems is a global leader in providing architects, engineers, geospatial professionals, constructors, and owner-operators with comprehensive software solutions for advancing the design, construction, and operations of infrastructure.
Bentley solutions encompass MicroStation applications for information modeling, ProjectWise collaboration services to deliver integrated projects, and AssetWise operations services to achieve intelligent infrastructure – complemented by worldwide professional services and comprehensive managed services.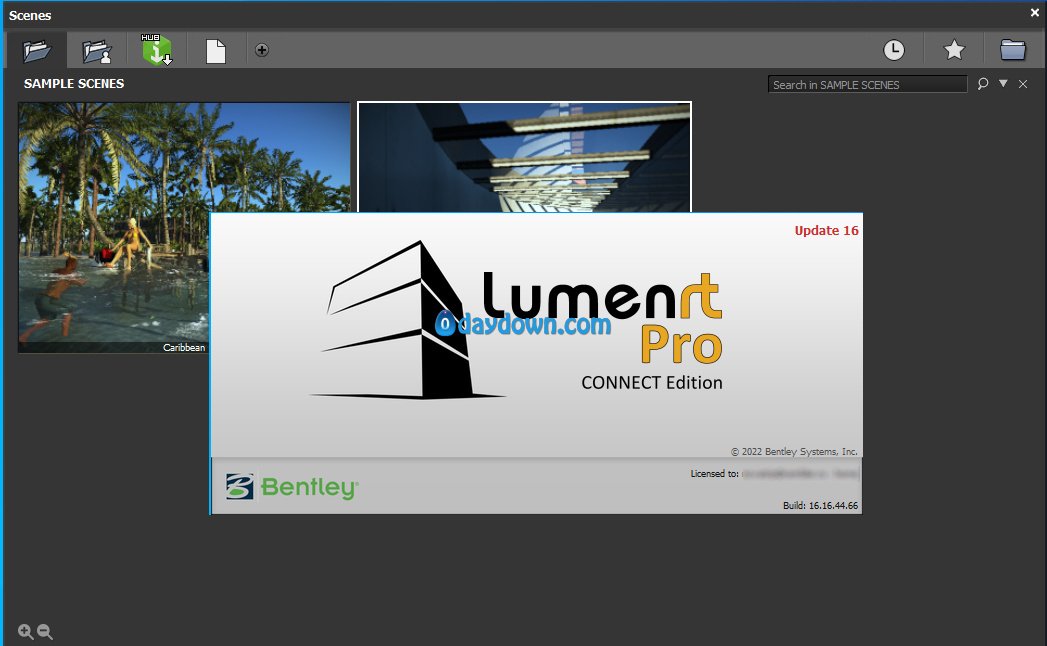 Product: LumenRT
Version: Pro CONNECT Edition Update 16 (16.16.44.066) *
Supported Architectures: x64
Website Home Page : http://www.bentley.com
Languages Supported: english
System Requirements: Windows **
Size: 6.8 Gb
* release info:
LumenRT_Pro_english_16.16.44.66_1360241.exe
LumenRT_Content_library – SD_Plants_Materials.exe
LumenRT_Content_library – Characters.exe
LumenRT_Content_library – Venicles.exe
LumenRT_Content_library – HD_Plants.exe
---
Password/解压密码www.tbtos.com
转载请注明:0daytown » LumenRT Pro CONNECT Edition Update 16 (16.16.44.066)