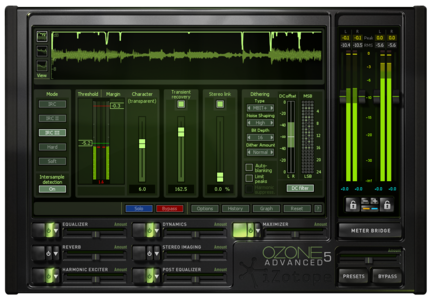 Zotope出品的Ozone是最佳的母带处理软件之一。第5代的升级带来了更大气,更出色的界面,更多新的功能和强劲的数字处理性能。
Ozone 5有七个主要的处理器:两个相同的图形EQ单元,动态单元,立体声图像仪单元,谐波激励单元,混响单元和带抖动的最大化单元。它们分别以七个单独的模块页面出现,在总控制的底部可以进行选择。
你可以对模块进行旁通处理,载入模块专属的预置以及调整处理量。Ozone的一些模块是多频段的(动态,激励器和图像仪),最多有四个频段和一些交叉部分。所有的模块都可以在单声道,立体声,左/右和中央/两侧模式下运作。
EQ有8个频段,可以自由选择形状(钟形,高低通滤波,高低拉升)。在第5代中,有了一些新的形状(比如复古的拉升方式和极端尖锐的砖墙切除滤波)。EQ有模拟或数字两种的模式。我们要感谢在第5代中出现的第二个EQ模块——这样你就可以在动态模块的前后都安置上EQ了。
---
iZotope Ozone 5 Advanced v5.04 MacOSX | 516 Mb
iZotope's complete mastering system in a single integrated plug-in includes eight essential mastering tools: Maximizer, Equalizer, Multiband Dynamics, Multiband Stereo Imaging, Post Equalizer, Multiband Harmonic Exciter, Reverb, and Dithering. Ozone 5 Advanced adds seven additional component plug-ins, extended features in every module, and a comprehensive suite of configurable meters.
Features
* Multiband Dynamics: Up to four bands of multiband dynamics that carefully emulate the response of analog circuitry, providing natural-sounding compression, expansion, and limiting.
* Paragraphic EQ: Shape the tone with eight nodes of bell, highpass, lowpass, highshelf or lowshelf filters overlaid on an ultra fast spectrum display.
* Multiband Harmonic Exciter: Up to four bands of multiband excitation for adding warmth, sparkle or shine to your mixes.
* Multiband Stereo Imaging: Up to four bands of multiband stereo widening for adding space to your mix without losing the bass.
* Mastering Reverb: Dual mode reverb for adding ambience to your mix.
* Loudness Maximizer: Push the level without overloading with analog modeled or digital transparent loudness maximizers.
* Dither: Prepare audio for CD with word-length reduction and high order psychoacoustic shaped dither.
Note: If you have any problems with the RTAS plugins delete the AAX plugins.
Format: AU/VST/VST3/RTAS – x32/x64
Platform: MAC 10.6 or higher.
---
Download 百度云
链接:http://pan.baidu.com/share/link?shareid=3998532509&uk=926257522 密码:51wb