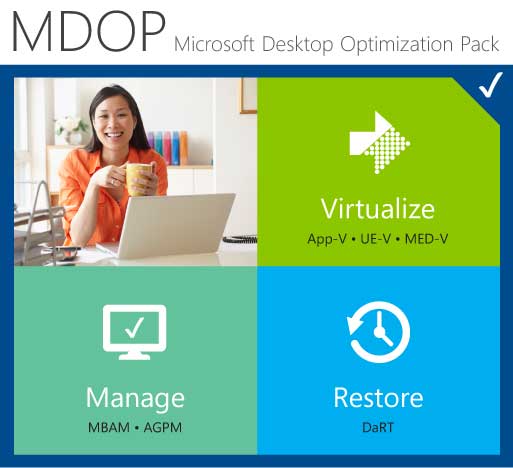 Microsoft Desktop Optimization Pack 2014
OS and system related | Original Install File | OS: Windows (x86x64) | 1.8 GBLanguages: English, Italian
The Microsoft Desktop Optimization Pack (MDOP) is a suite of technologies available as a subscription for Software Assurance customers. MDOP virtualization technologies help personalize the user experience, simplify application deployment, and improve application compatibility with the Windows operating system (UE-V/App-V/MED-V). Additionally, MDOP helps manage, monitor, and deploy key Windows features (MBAM/AGPM). Using MDOP shifts desktop repair from reactive to proactive, saving time and removing challenges associated with troubleshooting and repairing system failures (DaRT). 

Application Virtualization (App-V)
Microsoft Application Virtualization (App-V) transforms applications into centrally managed services that are never installed and don't conflict with other applications. IT professionals and end-users alike face challenges in today's work environment. End-users speak many languages, are geographically dispersed and may not be connected to corporate networks at all times. IT must meet the needs of these users, and provide solutions that are fast, flexible and reliable. App-V can help with the challenges you face day to day and enable your business to be more flexible and responsive to changing needs.

Advanced Group Policy Management (AGPM)
Microsoft Advanced Group Policy Management (AGPM), a core component of the Microsoft Desktop Optimization Pack for Software Assurance, makes it easier for IT organizations to keep enterprise-wide desktop configurations up to date, enabling greater control, less downtime, and reduced total cost of ownership (TCO). Group Policy objects (GPOs) play a powerful role in how your network is managed and secured. They enable IT staff to manage user and desktop settings on many computers at once. 

Diagnostics and Recovery Toolkit (DaRT)
The Microsoft Diagnostics and Recovery Toolset (DaRT), is a core component of the Microsoft Desktop Optimization Pack for Software Assurance, helps IT teams make PCs safer to use, keeps employees productive, and enables desktops that are easier and less expensive to manage. Administrators can easily recover PCs that have become unusable, rapidly diagnose probable causes of issues, and quickly repair unbootable or locked-out systems, all faster than the average time it takes to reimage the machine.


..:: ITALIAN DESCRIPTION ::..

Virtualizzazione. Gestione. Ripristino. Uno stile di lavoro tutto nuovo! Microsoft Desktop Optimization Pack (MDOP) è un gruppo di tecnologie disponibili tramite abbonamento per i clienti di Software Assurance. Le tecnologie di virtualizzazione di Microsoft Desktop Optimization Pack (MDOP) per Software Assurance consentono di personalizzare l'esperienza dell'utente, semplificare la distribuzione delle applicazioni e migliorare la compatibilità di queste ultime con il sistema operativo Windows (UE-V/App-V/MED-V). Inoltre, MDOP aiuta a gestire, monitorare e distribuire le principali funzionalità di Windows (MBAM/AGPM).

Grazie a MDOP, gli interventi di riparazione diventano da reattivi a preventivi. Questo approccio permette di risparmiare tempo e rimuovere le difficoltà associate alla risoluzione dei problemi e alla riparazione degli errori del sistema operativo (DaRT).

Application Virtualization
Microsoft Application Virtualization (App-V) trasforma le applicazioni in servizi gestiti a livello centrale che non richiedono installazioni e non entrano in conflitto con altre applicazioni. I professionisti IT e gli utenti finali devono affrontare una serie di sfide nell'ambiente lavorativo odierno. Gli utenti finali parlano lingue diverse, si trovano in posizioni geografiche differenti e potrebbero non essere sempre connessi alle reti aziendali. L'IT deve essere in grado di soddisfare le loro esigenze e fornire soluzioni rapide, flessibili e affidabili. App-V fornisce il supporto necessario per risolvere queste sfide quotidiane e conferisce alle aziende maggiore flessibilità e reattività a esigenze in continuo cambiamento.

Microsoft Enterprise Desktop Virtualization
In caso di aggiornamento a una nuova versione di Windows, le aziende devono in primo luogo eseguire l'inventario e testare le applicazioni line-of-business nel nuovo sistema operativo. Talvolta alcune applicazioni potrebbero non essere ancora ufficialmente supportate dal fornitore o non funzionare affatto. L'intero processo di test, correzione dell'applicazione, aggiornamento a una nuova versione che supporta Windows 7 e ricerca di un'applicazione alternativa può richiedere molto tempo. Al contempo, gli utenti non sono in grado di usufruire dei miglioramenti e delle nuove funzionalità del sistema operativo e i reparti IT sono costretti a posticipare i piani di aggiornamento. Microsoft Enterprise Desktop Virtualization (MED-V) consente di risolvere tutti questi problemi.

Microsoft Diagnostics and Recovery Toolset (DaRT)
Microsoft Diagnostics and Recovery Toolset, un componente essenziale di Microsoft Desktop Optimization Pack per Software Assurance, consente ai team IT di proteggere ulteriormente i PC, mantenendo un livello elevato di produttività degli utenti e trasformando i desktop in dispositivi più semplici ed economici da gestire. Gli amministratori possono ripristinare agevolmente i PC non più utilizzabili, diagnosticare rapidamente le cause probabili alla base dei problemi e riparare in un batter d'occhio sistemi bloccati o non avviabili, tutto in tempistiche ridotte rispetto a quelle necessarie per creare una nuova immagine del computer.

HomePage: http://www.microsoft.com/en-us/windows/enterprise/products-and-technologies/mdop/default.aspx
---
Download rapidgator
http://rg.to/file/fe4e5b554b6313070d44352071175d63/M1cr0DesOptiPack2o14.ENGLISH.part1.rar.html
http://rg.to/file/ea2e617c0ab38214f765c51bd662405c/M1cr0DesOptiPack2o14.ENGLISH.part2.rar.html
http://rg.to/file/2ef5ffdd7a27362f1e5176080a1bc532/M1cr0DesOptiPack2o14.ITALIANO.part1.rar.html
http://rg.to/file/3fe5793278bc0723bab7552ad43ca9f6/M1cr0DesOptiPack2o14.ITALIANO.part2.rar.html
Download uploaded
http://uploaded.net/file/sv4kougl/M1cr0DesOptiPack2o14.ENGLISH.part1.rar
http://uploaded.net/file/6ifeby4p/M1cr0DesOptiPack2o14.ENGLISH.part2.rar
http://uploaded.net/file/bsdd1bi0/M1cr0DesOptiPack2o14.ITALIANO.part1.rar
http://uploaded.net/file/4ed60u7v/M1cr0DesOptiPack2o14.ITALIANO.part2.rar
Download Firedrive and 百度云