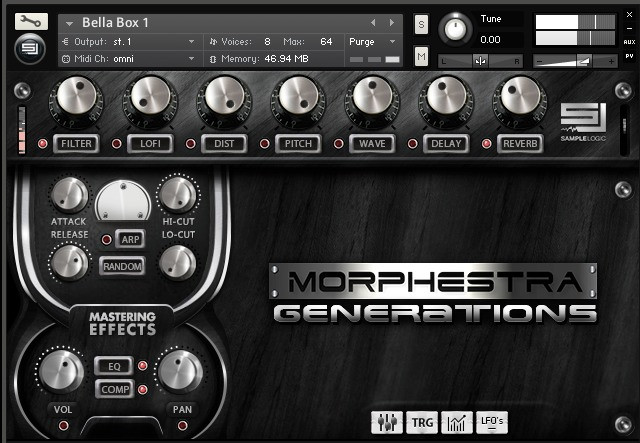 Sample Logic Morphestra Generations KONTAKT | 15.1 Gb
MORPHESTRA GENERATIONS – A New Generation of Sound. Weighing in at over 16GBs, MORPHESTRA GENERATIONS is a collection of 1600+ morphed Instruments & Multis derived entirely from true orchestral recordings. Created in association with Kirk Hunter Studios, MORPHESTRA GENERATIONS brings the original MORPHESTRA™ into a whole new generation of sound, creating a modern day virtual instrument that transcends ANY morphed orchestral/effectual sample library ever created.

Geared for film, TV, and game composers, MORPHESTRA GENERATIONS includes amazing ready-to-play psycho-acoustic sampled symphonic winds, strings, and percussive instruments and morphs them into a world where music and sound design collide. MORPHESTRA GENERATIONS also includes all the original instruments and multis from MORPHESTRA 1.0.

Re-defined, Re-mastered, Re-mutilated, Re-morphed
Sample Logic has gone above and beyond traditional performance practices and recording techniques to create the new diverse instruments included in MORPHESTRA GENERATIONS. Strings, Brass, Woodwinds, Symphonic & World percussion, Voices, Guitars, Waterphones, Animals, Warehouses, Tools, Machinery, and a number of unique World instruments were recorded in the studio and as field recordings then manipulated using Sample Logic's proprietary morphing and synthesis techniques to create new organic "never-before-heard" instruments and ensembles. All recordings were manipulated, morphed, and processed throughout the various stages of production, including the sampling phase, programming phase, and via the MORPHESTRA GENERATIONS real-time customizable user interface effects and parameters.

Mind Blowing User Interface
The MORPHESTRA GENERATIONS spectacular user interface was designed with the composer and sound designer in mind, providing effortless control for complete real-time customization. The core of MORPHESTRA GENERATIONS is focused around the user experience, providing the freedom to infinitely transform samples into awesome twisted evolving instruments with endless possibilities.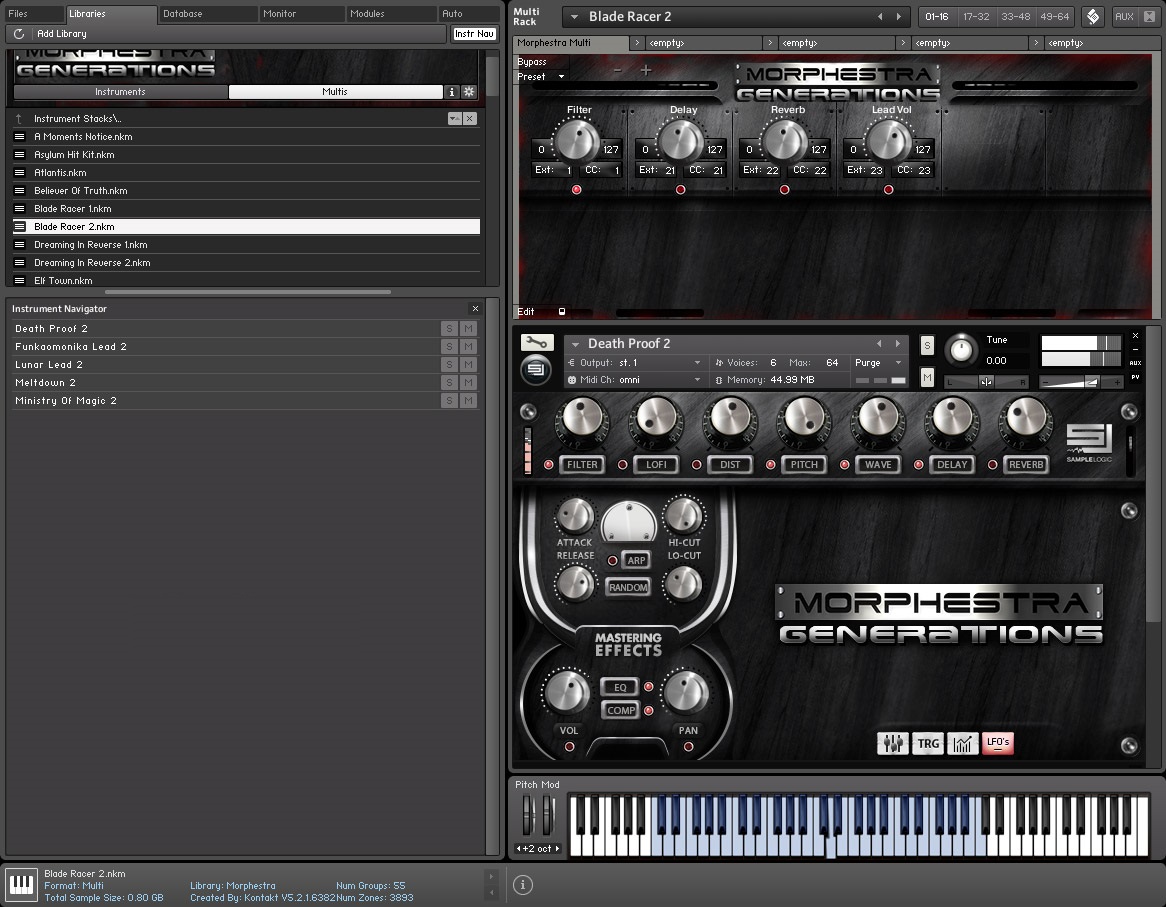 "Multi-core Effect Sequencers" for real-time effect automation
"Triggers" – 48 unique effect chains
"Arpeggigater" – sequencer based gate effect
"LFO" section to make things wobble
"Wave" – additive synthesis engine
"Pitch" sequencer for quick and easy pattern based transpositions on the fly
"Multi Script Macros" for real-time sequencing of instrument parameter controls

Whats new:
Over 400 entirely new instruments (1600+ completely enhanced isntruments in all)
Over 90 New Multis (200+multis in all)
All Instruments re-mastered and re-morphed
All New User Interface
New Convolution Reverb
New Triggers (real-time effects chains)
New LFO Module (modulate parameters)
New Wave Module (real-time synthesis engine)
New Arpeggigater (step-sequence effects)
…and much more…
---
Download rapidgator
http://rg.to/file/903837e8e4973f396c70b184ff4c4dce/astr-splgmhgnk.part01.rar.html
http://rg.to/file/a726288f74dbaba06ee07d91f0c1bec8/astr-splgmhgnk.part02.rar.html
http://rg.to/file/0952fbcffdd57ef566823ccb79772ef2/astr-splgmhgnk.part03.rar.html
http://rg.to/file/2c905cc93c3e3a6c74bbed9b3844c93d/astr-splgmhgnk.part04.rar.html
http://rg.to/file/88f98228d6a357a441392388db5e6fa1/astr-splgmhgnk.part05.rar.html
http://rg.to/file/fd548fecd03867073db311fd18c446af/astr-splgmhgnk.part06.rar.html
http://rg.to/file/661c33709b351aea17877c2c034babda/astr-splgmhgnk.part07.rar.html
http://rg.to/file/450af05ad4e1fa0e63aac14cb8d8398c/astr-splgmhgnk.part08.rar.html
http://rg.to/file/893d92c7923c4526162a0faa40ab27b4/astr-splgmhgnk.part09.rar.html
http://rg.to/file/95991b4e3915b989a648ce39c77006a3/astr-splgmhgnk.part10.rar.html
http://rg.to/file/1e330f9c47e0fe8ac15ce03e5db6fa41/astr-splgmhgnk.part11.rar.html
http://rg.to/file/609975d662c3b5fe29d1e2b804d57a30/astr-splgmhgnk.part12.rar.html
http://rg.to/file/0fd3d4fd7088682c97a6cad1d21d90ab/astr-splgmhgnk.part13.rar.html
http://rg.to/file/fca139e56af6eaea076719f22524ea6b/astr-splgmhgnk.part14.rar.html
http://rg.to/file/b6b5543c22859d800b59f62d89ab8dbb/astr-splgmhgnk.part15.rar.html
http://rg.to/file/7f259447b9df309a641db85c4051163c/astr-splgmhgnk.part16.rar.html
http://rg.to/file/da090f4d227f3c786f78bf8a21f1695d/astr-splgmhgnk.part17.rar.html
http://rg.to/file/e27dc2b3f93ff7a78f2f47053bcf4870/astr-splgmhgnk.part18.rar.html
Download uploaded
http://uploaded.net/file/fm59dsz5/astr-splgmhgnk.part01.rar
http://uploaded.net/file/ng0wfl0i/astr-splgmhgnk.part02.rar
http://uploaded.net/file/5yml6gr8/astr-splgmhgnk.part03.rar
http://uploaded.net/file/787sw5f9/astr-splgmhgnk.part04.rar
http://uploaded.net/file/6bl78jvx/astr-splgmhgnk.part05.rar
http://uploaded.net/file/7s9h8zh1/astr-splgmhgnk.part06.rar
http://uploaded.net/file/0rvfv2gn/astr-splgmhgnk.part07.rar
http://uploaded.net/file/4687n6cv/astr-splgmhgnk.part08.rar
http://uploaded.net/file/hy7hnvbi/astr-splgmhgnk.part09.rar
http://uploaded.net/file/a21kxkre/astr-splgmhgnk.part10.rar
http://uploaded.net/file/w73o1a09/astr-splgmhgnk.part11.rar
http://uploaded.net/file/6ces2r9j/astr-splgmhgnk.part12.rar
http://uploaded.net/file/3gamddho/astr-splgmhgnk.part13.rar
http://uploaded.net/file/i5toccc9/astr-splgmhgnk.part14.rar
http://uploaded.net/file/eiwk1n3z/astr-splgmhgnk.part15.rar
http://uploaded.net/file/4uccnqp3/astr-splgmhgnk.part16.rar
http://uploaded.net/file/r1gpzw54/astr-splgmhgnk.part17.rar
http://uploaded.net/file/v7rv7pmn/astr-splgmhgnk.part18.rar
Download Firedrive and 百度云
转载请注明:0daytown » Sample Logic Morphestra Generations KONTAKT