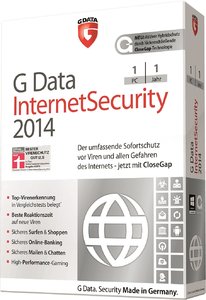 德国原厂G-Data 2014网络安全新版本以最新技术【Close Gap】防护,是结合高性能资源混合保护的主动和特征码的安全技术,防范恶意软件和在线攻击,是一种新方式,并补充了主动防御技术,如BankGuard、云端防护、行为监控,基于特征码的检测和保护技术,模块化设计,定期更新病毒码,每次更新【CloseGap】可不断接受防毒功能扩展,以最佳防护方式充份解决在线最新的病毒威胁,与双擎概念相比,【CloseGap】节省资源消耗,比常规防毒软件更具优势。
---
G Data InternetSecurity 2014 Build 24.0.2.1 Final | 319 Mb
G DATA InternetSecurity is a suite of applications that work together in order to provide you with the best protection for your computer. The security features include an antivirus, a firewall, antispam filtering and child protection.In addition to its award-winning virus detection rates, G Data InternetSecurity has a new idle scan feature which scans the system when it is idle to utilize your system's uptime efficiently. Cloud-based analysis of suspicious files and the silent firewall give your system an effective all-round defense against viruses, worms, spam and hacking – without loss of performance and without tedious queries.
Features :
· DoubleScan: best, award-winning virus detection
· OutbreakShield: Immediate protection against new viruses
· New Heuristics detects even more unknown viruses
· Improved protection vfrom viruses, worms, rootkits, spyware, dialers, Trojans, backdoors, and more.
· Virus blockers for e-mails and instant messaging
· Award-winning protection against attacks
· New optimization for games: Switches automatically to Autopilot for transparent firewall protection
· Easier to use, thanks to new rules
· Four levels of security, or expert mode
· Expanded by language blocker: detects and blocks ten different e-mail languages as desired
· Individual user profiles, blocks offensive contents and more
· Keywort-Filter for full text search (extensible)
· Trace eraser and data shredder
· Blocks banners, pop-ups, Flash, Java / VB script, etc.
What's New in This Release :
· NEW: Active hybrid protection with CloseGap technology to close security gaps
· NEW: AutostartManager accelerates startup – boot up as you did on the first day
· NEW: Completely re-engineered user interface for intuitive use – no software manual required
· IMPROVED: New BankGuard technology for secure banking and online shopping
· IMPROVED: Behavior monitoring protects against unknown viruses
OS : Windows XP / Vista / 7 / 8
HomePage -‎ http://www.gdatasoftware.com/
转载请注明:0daytown » G Data InternetSecurity 2014 Build 24.0.2.1 Final 防毒软件