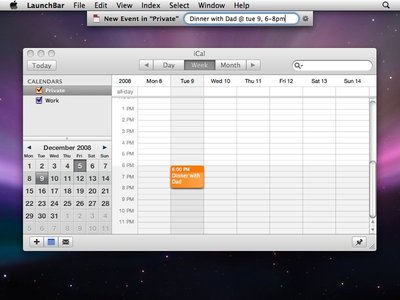 LaunchBar 5.5.2 | Mac Os X | 6 MB
LaunchBar is a smart and powerful, keyboard driven productivity utility that lets you access and control every aspect of your digital life. Whatever you want to get done on your Mac – with LaunchBar it's only a few keystrokes away. Get instant access to applications, documents, contacts, calendars, bookmarks, media libraries, search engines and so much more – just by typing short abbreviations. It's a file manager, a web and desktop search tool, an app launcher, a clipboard manager, a jukebox, a calculator, an information browser, … or quite simply a tremendous time saver!
Features
Abbreviation Search
LaunchBar's powerful, blazing fast adaptive abbreviation search technology allows you to find items just by typing short acronyms of their name. 
Keyboard Shortcuts
Invoke LaunchBar quickly with a system wide hotkey, or just by tapping a modifier key. 
Clipboard History
Preserve the data of your most recent Copy operations, and use the copied objects again later. 
ClipMerge
Combine subsequent Copy operations into one single clipboard object just by pressing ⌘C twice. 
Web Searches
Searching the web has never been easier. Choose the desired web service, enter your query and get the result instantly shown in your web browser. 
Calculator
From simple numeric calculations up to complex scientific expressions – just open LaunchBar, type your calculation and press Return to get the result. 
Quick Look
Get a quick preview of your current selection just by tapping the space bar. 
Instant Open
Open items even more quickly. Just hold down the last entered abbreviation character and the selected item opens immediately. 
Browsing
Navigate folders, contacts, bookmarks, recent items, libraries or any other kind of hierarchy with the arrow keys to reveal related information. 
File Operations
Manipulate your files efficiently with the keyboard. Move, rename, compress, assign color labels, create folders and much more.
Services
Call up Mac OS X Services by name to quickly manipulate text or file selections. 
Contacts
Enjoy the convenient access to your contacts to quickly create new email messages, retrieve phone numbers, postal addresses and other contact details. 
Bookmarks
Get instant access to all of your web browser's bookmarks, bookmark folders and history. 
iTunes
Browse your iTunes Library, find your favorite tunes and enjoy your most beloved albums and artists. 
Calendar
Create events and reminders in your calendars within seconds. 
Instant Send
The most efficient way to send files or text selections to LaunchBar, and then hand them over to applications, folders, email contacts, search templates, services and more.
Mac OS X 10.6.8 or later
---
Download freakshare
http://freakshare.com/files/4tnt4ua8/LBar.5.5.2.zip.html
Download filefactory
http://www.filefactory.com/file/6elgew8ydzfn/LBar.5.5.2.zip
Download uploaded
http://ul.to/69wt1i4u
Download 城通网盘
http://www.400gb.com/file/23971093
转载请注明:0daytown » LaunchBar 5.5.2 MacOsX