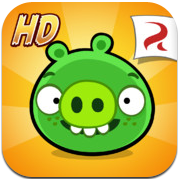 由Angry Birds开发者的制造:一个从小猪的视角来创作的全新游戏!
通过创建终极飞行/爬行/滚动/旋转/撞击并把小猪安全导航至蛋蛋处!
同样的,Bad Piggies还是为蛋追逐 – 当然,事情总有意外!你能创建终极飞行器,并引导他们安全到达目的地吗?那些狡猾的猪猪有几个工具可供使用,但都要你的帮助把这些交通工具变得更完善!
---
Version 1.3.0 of Bad Piggies HD for iPod is released by Lz0PDA. Enjoy!
Description: Create the ultimate flying/crawling/rolling/spinning/crashing device and pilot the pigs safely to the eggs! The Bad Piggies are after the eggs again — but as usual, nothing is going according to plan! Can you create the ultimate flying machine and steer them safely to their destination? Those tricky pigs have a few objects they can use, but they need your help to turn these into the perfect transportation! With more than 120 levels, and free updates coming up, you have hours and hours of pig-crashing, exploding, and flying fun! Get three stars to unlock 21 more levels! HINT: Sometimes you need to play the level several times to achieve all the objectives — try building a new device or steering in a different way to earn all the stars!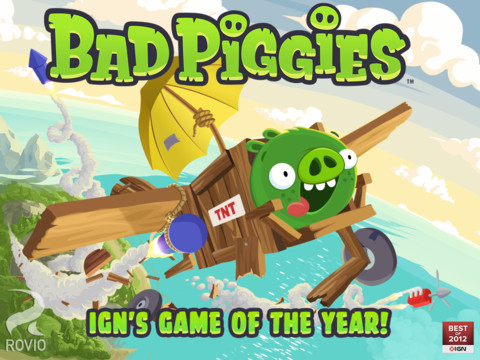 Features:
120 levels crammed with flying/driving/crashing fun!
21 additional levels unlocked by getting three stars!
Free updates!
8 sandbox levels to stretch your creativity, plus Junkyard available as IAP!
Ultra-special, ultra-secret, ultra-difficult sandbox level to unlock by collecting all the skulls!
35 objects to create the ultimate machine: motors, wings, fans, bottle rockets, umbrellas, balloons, and much more!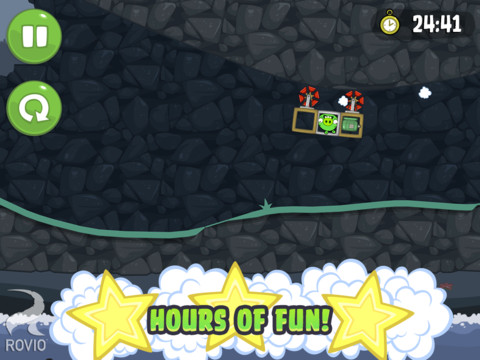 Release name: Rovio.Entertainment.Ltd.Bad.Piggies.HD.v1.3.0.iPad-Lz0PDA
Size: 32.27 MB
Links:  iTunes 
---
Download freakshare
http://freakshare.com/files/2jnx4rpo/Rovio.Entertainment.Ltd.Bad.Piggies.HD.v1.3.0.iPad-Lz0PDA.rar.html
Download filefactory
http://www.filefactory.com/file/6w8gzkjp34m1/Rovio.Entertainment.Ltd.Bad.Piggies.HD.v1.3.0.iPad-Lz0PDA.rar
Download uploaded
http://uploaded.net/file/d8syvwyh/Rovio.Entertainment.Ltd.Bad.Piggies.HD.v1.3.0.iPad-Lz0PDA.rar
Download 城通网盘
http://www.400gb.com/file/23907138
Download 百度云
http://pan.baidu.com/share/link?shareid=2318039686&uk=909467506
转载请注明:0daytown » 捣蛋猪 Rovio Entertainment Ltd Bad Piggies HD v1.3.0 iPad