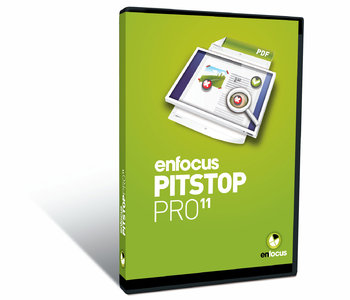 Adobe Acrobat 插件, 工业标准的PDF文件的自动修正和编辑程序。是艺术家和专业出版人员不可缺少的工具。Enfocus PDF配置文件允许您检查重要PDF属性和自动更正常见错误,视觉反馈和跟踪编辑。允许您更改文本、图象、线路艺术、颜色, 以及大范围的全面交互选择检验和编辑,及自动化重复性任务。
支持Acrobat版本:
Adobee® Acrobat® 8.x 和更高版本 Standard 或 Professional
Adobe® Acrobat® 9.x Standard 或 Pro
Adobe® Acrobat® X Standard 或 Pro
Adobe® Acrobat® XI Standard 或 Pro
支持操作系统:
Microsoft® Windows® XP Professional 或 Home Edition SP 2
Microsoft® Windows® 7 Home Premium、Professional 或 Ultimate(注:PitStop Pro 将始终在 32 位模式下运行)
---
Enfocus PitStop Pro 11 (Update 2) | Windows | Mutilanguage | 285 MB
The world's leading Adobe Acrobat plug-in for Smart PDF quality control and fixing last-minute problems in seconds. PitStop Pro 11 is the essential standard for creative, media, print and publishing professionals to preflight, edit and fix PDF files and makes last minute corrections quick and easy.
What's new in PitStop Pro 11 (Update 2):
Support for Adobe Acrobat XI Standard or Pro
PitStop Pro now officially supports this new version of Adobe Acrobat.
Support for Microsoft® Windows® 8
PitStop Pro now officially supports this operating system from Microsoft, both 32-bit and 64-bit running in 32-bit mode.
New 'Fix' Preflight Profiles to support the GWG2012_CMYK specification
With the previous version of PitStop Pro we announced support of this new specification and released a set of Preflight Profiles that verified the standard. With this version we add an additional set of profiles that will also fix PDF files to become compliant with the standard, where possible.
Standard ICC profiles are now included in the installer
When PitStop Pro is installed, we now also include as part of the installation process some standard ICC profiles from the ECI, Idealliance and WAN-IFRA.
New Action – Split Pages in Half
This new functionality is also available as an Action as well as a Global Change. This enables users to define their own requirements for splitting pages based on Action List selections and of course variables using the Smart Preflight functionality.
New predefined Action Lists
Using the 'Split Pages in Half' Action, we have created 3 new pre-defined Action Lists to split pages for 3 commonly used page sizes: A4, A5 and US letter. These Action Lists have similar functionality to the Global Change, but are based on the page width of the trim box and split the pages vertically; they are designed for working with pages supplied as spreads. These Action Lists also have the added functionality of cropping any excess image data after the pages have been split.
Smart Preflight with page based Actions
The Actions 'Select by Page Size' and 'Check Page Size' now support Smart Preflight and can be driven by variables.
and much more …
more info: http://www.enfocus.com
---
Download freakshare
http://freakshare.com/files/rd9y6z8t/Enfocus.PitStop.Pro.11.-Update.2-.rar.html
Download filefactory
http://www.filefactory.com/file/1p8zeuyrswlv/Enfocus.PitStop.Pro.11.(Update.2).rar
Download uploaded
http://uploaded.net/file/iat4xp9q/Enfocus.PitStop.Pro.11.%28Update.2%29.rar
Download 城通网盘
http://www.400gb.com/file/23847326
转载请注明:0daytown » Enfocus PitStop Pro 11 (Update 2) PDF自动修正和编辑程序