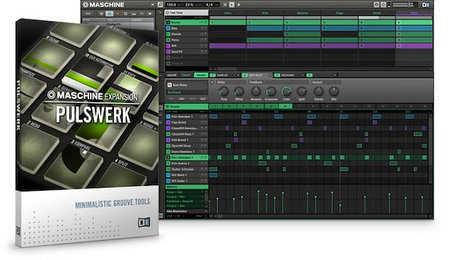 Native Instruments PULSWERK MASCHINE Expansion Dumped | 447 Mb
PULSWERK's sound arsenal was created with top-of-the-line analog and digital gear by renowned sound designer Denis Gokdag. Its 20 Special Kits come with custom patterns using chords, bleeps, glitches, drones, pads, and other pitched sound sources to deliver tight, pulsing sounds that cut through a mix with scalpel-like precision. Carve out your own distinct tracks for the dancefloor with this groove construction toolkit.
PULSWERK is loaded with a set of inspiring Multi-Effect Kits – custom chains of MASCHINE's onboard effects that load just like a drum kit into one of MASCHINE's groups. Pads feature pre-sequenced chains that automatically sync to the track tempo for precise, rhythmic sound morphing. Route any sound or group an effect chain, and start tweaking – record parameter automation and easily further route those chains into others for expansive, evolving textures.
Native Instruments Maschine v1.8.2 UNLOCKED required.
---
How to add dumped MASCHINE library
1) Copy 'Pulswerk Library' folder to its default path 'c:\Users\Public\Documents\
Pulswerk Library
\'
2) Run Native Instruments Maschine Unlocked 1.8.2 as standalone
3) Go to 'File' -> 'Preferences' -> 'User Path' -> click 'ADD', locate the folder 'C:\Users\Public\Documents\Pulswerk Library'
4) Click 'RESCAN' -> 'OK'
转载请注明:0daytown » Native Instruments PULSWERK MASCHINE Expansion Dumped