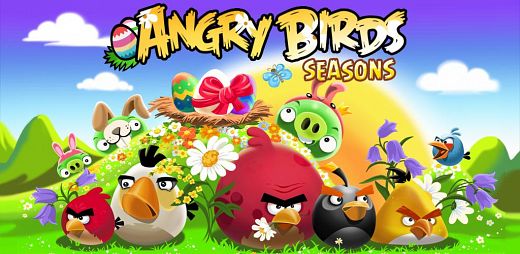 《愤怒的小鸟 季节版 Angry Birds Seasons》是ROVIO和当乐网合作首发的《愤怒的小鸟》系列新作,就是大家期待已久的愤怒的小鸟万圣节版,是季节版系列的又一重大更新!游戏中已经包含了"春节版""夏日猪餐"、"万圣节版"、"情人节版"、"中秋节版"、" 圣帕特里克节版"(又称三叶草版)、"复活节版"、"圣诞节版"和"返校季"

【更新记录】
v3.3.0更新内容:
– 这是一个美丽的春夜,捣蛋猪们学到了一些魔术,所以它们施展魔法把小鸟的蛋变没了!愤怒的小鸟们不得不再次去拯救它们的蛋;
– 36个全新的魔法关卡;
– 传送门:你从为见过的神奇玩法;
– 新的道具:爆炸魔术箱
---
A surprise Angry Birds Season update — v3.3.0 — is now available! This update include :
36 all new magical levels.
PORTALS: never-before-seen gameplay that lets you magically transport within the level.
Brand new topsy-turvy carnival theme filled with clown pigs, magic hats, and plenty of surprises.
Description:
It was a dark and stormy night… but that won't stop the Angry Birds! Pursue the pigs through 30 levels filled with pumpkin patches, exploding jack-o-lanterns, and creepy skeletons, lit by a full moon and eerie lantern light. You'll get some unexpected help from a BRAND NEW BIRD – he starts out small, but don't let his looks fool you! Complete all the levels to find some special tricks and treats!
This year's Halloween episode marks a year of great Angry Birds Seasons episodes, but we're not done yet! Download now to get access to 205 great levels!
Get ready for Ham'o'ween with the latest Angry Birds Seasons update! It's going to be all tricks and no treats for the pigs this year, especially with a brand new bird!
Release name: Angry.Birds.Seasons.v3.3.0.Android-DeBTPDA
Size: 43MB in 9F
Links: Homepage 
---
Download freakshare
http://freakshare.com/files/32m391mq/Angry.Birds.Seasons.v3.3.0.Android-DeBTPDA.rar.html
Download filefactory
http://www.filefactory.com/file/wkqnhya7s27/Angry.Birds.Seasons.v3.3.0.Android-DeBTPDA.rar
Download uploaded
http://uploaded.net/file/xhv7r54u/Angry.Birds.Seasons.v3.3.0.Android-DeBTPDA.rar
Download 城通网盘
http://www.400gb.com/file/23581064
Download 百度云
http://pan.baidu.com/share/link?shareid=2218851708&uk=2972715548
转载请注明:0daytown » Angry Birds Seasons v3.3.0 Android 愤怒的小鸟 季节版