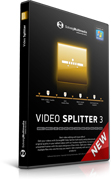 一款强大快速高品质的视频剪裁工具。直观的界面可以让用户只需点击几下鼠标就可以分割视频文件..
SolveigMM Video Splitter 是一款出色的视频编辑软件,它支持AVC/H264, MP4, MOV, AVCHD, MPEG-2, MPEG-1, MKV, AVI, WMV, MP3, WMA 等众多压缩格式文件,且它完全兼容Win7操作系统。此程序的操作是无损且快速的,通过点击几下鼠标就能准确无误的去除视频中不想要的部分,切除和合并视音频流的操作也能通过鼠标完美的进行,且喜人直观的友好界面可以使用户很容易的使用它。
基于我们的SolveigMM Video Editing SDK开发的音视频编辑软件不涉及任何编码/解码过程,且提供了令人不可思议的使用品质和速度。
---
SolveigMM Video Splitter 3.6.1306.18 Multilingual | 22.4 MB
The SolveigMM Video Splitter is an outstanding video editor for working with MPEG-2, AVI, WMV, ASF, MP3, WMA files. The editor is lossless and fast, removing unwanted parts of the video seamlessly with just a few mouse clicks – cutting and joining up video and audio streams perfectly. The attractive and intuitive user-friendly interface is very easy to use. Based on SolveigMM Video Editing SDK, our audio – video editor provides incredible quality and speed without using any encoding/decoding process. We introduced MPEG-2 frame accurate editing. SolveigMM advanced technology keeps 99% of data and only transcodes a few frames at the beginning and end of the video segments, so that now MPEG2 files are also processed fast and lossless.
---
Download freakshare
http://freakshare.com/files/p9jkcj62/SolveigMM.Video.Splitter.3.6.1306.18.rar.html
Download filefactory
http://www.filefactory.com/file/2mithvum0dz7/SolveigMM.Video.Splitter.3.6.1306.18.rar
Download uploaded
http://ul.to/ycsy154t
Download 城通网盘
http://www.400gb.com/file/23236209
Download 百度云
http://pan.baidu.com/share/link?shareid=2405241936&uk=909160512
转载请注明:0daytown » SolveigMM Video Splitter 3.6.1306.18 视频分割合并