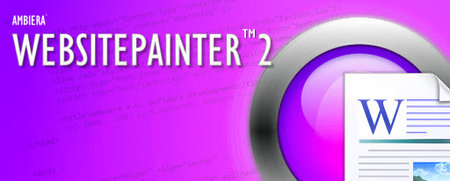 WebsitePainter是一款可视化网页设计软件,用户无需html和编程知识就可以创建优秀的网站。
WebsitePainter 是一种网页编辑器用于创建专业的看网站,用户无需 HTML 知识和编程。点击几下就可以创建具有Web2.0 的按钮、 渐变、 倒圆角边框、 悬停效果、 透明效果、 连续的文本和更多元素的网页。包括各种各样的模板,并支持重要的 Web 标准,如 HTML、 CSS、 PHP、 ASP。可用于 Windows 和 Mac OS X。
特点 
Web 2.0的按钮,透明形状,渐变
在WebsitePainter几个简单的点击,你可以创建你需要的现代网站的所有形状。没有无休止的图形图像,编辑CSS样式和HTML元素了。 
像素完美的布点的精确位置 
WebsitePainter允许您为您的网站,你希望他们能够将所有的元素,通过简单的点击和移动。 
不再需要没有comlex的布点规则,WebsitePainter生成HTML的网站,这可能听起来微不足道,但可悲的现实是,今天的HTML标准的复杂的布局系统,这已经成为一个网站设计者棘手的任务,但WebsitePainter消除这方面的负担。 
只需点击几下创建互动式幻灯片播放 
WebsitePainter还内置了支持动态HTML内容。例如,您可以创建一个动态的图像列表,幻灯片播放效果,淡入和淡出的速度可调。它也可以创建一些按钮或链接到幻灯片更具互动性,手动切换到下一个或前一个图像。一切都无需编程,只需点击几下。 
支持动态调整大小的布局 
相对于其他的网站编辑,WebsitePainter不支持绝对布点的网站,但也能够创建动态调整大小的元素:想要一个跨越整个屏幕左侧的侧边栏?需要一个底部的菜单吗?还是两个?没有问题。WebsitePainter只需使用编辑器的布局容器这一点。 
创建HTML,PHP和ASP网页 
WebsitePainter并不局限于创建HTML页,您也可以使用它来创建PHP,ASP和其他网页。简单设置扩展的页面。随着HTML代码元素,你甚至可以在WebsitePainter直接编辑您的PHP,ASP或其他代码。 
完全控制生成的HTML代码 
如果你需要更多的控制产生HTML代码,您也可以编辑它自己。只需右键单击任一元素,然后选择菜单的HTML代码…。您可以在这里查看该元素生成的HTML代码,甚至将自己的HTML属性,JavaScript处理程序和更多。
---
Ambiera WebsitePainter 2.2 Professional Edition | 4.6 MB
Modern websites with a few clicks
Web 2.0 Buttons, Transparent Shapes, Gradients at your finger tips with a few simple clicks in WebsitePainter, you can create all the shapes you need for modern websites. No endless drawing of images, editing of CSS styles and HTML elements anymore.
Exact placement for pixel perfect layouting
WebsitePainter allows you to place all elements of your Website exactly where you want them to be, by simply clicking and moving them. No comlex layouting rules are needed anymore, WebsitePainter will take care of this and generate the HTML site as you want it to look for you. This may sound trivial, but the sad reality is that with the complex layout system of todays HTML standard, this has become a tricky task for Website designers, but WebsitePainter removes this burden.
Create Interactive Slideshows with just a few clicks
WebsitePainter has built-in support for dynamic HTML content. You can for example create a dynamic SlideShow with a list of images which will fade in and out at an adjustable speed. It is also possible to create some buttons or links to make the slideshow more interactive, to manually switch to the next or previous image. Everything without programming, just with a few clicks.
Supports Absolute as well as Dynamically Sized Layouts
As opposed to other website editors, Website painter does not only support absolute layouting of websites, but is also able to create dynamically sized elements: Want a side bar spanning the whole left of the screen? Need a bottom menu area? Or two? Not a problem with WebsitePainter. Just use the editor's 'Layout Containers' for this.
Create HTML, PHP and ASP pages
WebsitePainter is not limited to creating HTML pages, you can also use it to create PHP, ASP and other pages. Simple set the extension for a page and WebsitePainter will do the rest for you. With the HTML-Code element, you can even directly edit your PHP, ASP or whatever code in WebsitePainter.
Full control over the generated HTML code
If you need more control about the HTML code generated by WebsitePainter, you can also edit it yourself. Simply right-click any element and select the menu 'HTML Code…'. Here you can view the generated HTML code for that element, or even insert your own html attributes, javascript handlers and more, if you want to.
Supports all Languages through Unicode
WebsitePainter supports Unicode, that means it is possible to create Websites in any language, be it English, German, Korean, Chinese, Russian, Japanese, whatever you like.
Home Page – http://www.ambiera.com/websitepainter/index.html
---
Download freakshare
http://freakshare.com/files/32ep5aqa/Ambiera.WebsitePainter.2.2.Professional.Edition.rar.html
Download filefactory
http://www.filefactory.com/file/2h1wo1jnmemt/Ambiera.WebsitePainter.2.2.Professional.Edition.rar
Download uploaded
http://ul.to/r5bwx7nn
Download 城通网盘
http://www.400gb.com/file/23100315
Download 百度云
http://pan.baidu.com/share/link?shareid=1100703186&uk=909160512
转载请注明:0daytown » Ambiera WebsitePainter 2.2 Professional Edition 可视化网页设计