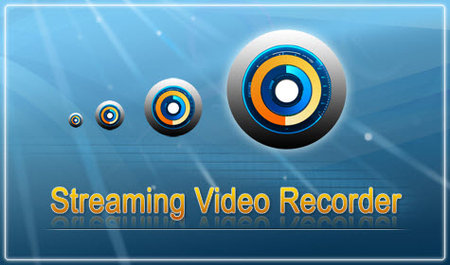 Apowersoft Screen Recording Suite 官方中文注册版是一款非常不错的屏幕视频录制工具,程序可以帮助你将屏幕上指定范围的所有动作和声音录制成WMV格式的视频文件并保存下来,非常简单易用!程序可设定自定义CPU核心的数量,可设定优先级别,为保证声音画面同步,还可以设定缓冲区!程序还提供了屏幕截图的功能!
程序支持计划任务功能,允许你在指定时间自动开始录制指定范围或者全屏的动作和声音,支持录制完毕后自动关机的功能!
程序还支持视频转换器,允许将所录制的WMV格式的视频文件转换成AVI、MP4、MKV、FLV等常用的视频文件格式!可自定义转换细节参数!
---
Apowersoft Streaming Video Recorder 4.4.2 Multilingual | 20.0 MB
Record streaming video and record Internet TV.Apowersoft Streaming Video Recorder is an all-in-one program for recording online videos and Internet TV Shows. It is very simple and intuitive to use, lets you easily record any streaming video being played on the Internet.And with a powerful video convert integrated in this Streaming Video Recorder, you can choose to output the recorded videos in many different formats, including AVI, MPEG-4, WMV, WMA, MP3, ACC etc. Nearly all online video sharing sites and all sorts of media types are supported.
Record Streaming Video and Internet TV Automatically
Streaming Video Recorder has functionality of both sniff and record. It can auto-detect any streaming video clip that is playing on your media player or web-browser, and then record streaming video and record Internet TV to your computer. There is no bother to copy and paste URL manually. It keeps recording video from the Internet even if you close the video playing web-page. This Streaming Video Recorder is indeed the easiest way to record media streaming video content, including social videos, movies, TV shows, news, sports, and other media types.
Record Streaming Videos from Tons of Online Video and TV Resources
Streaming Video Recorder is a new generation web video recording program. According to its superior technology, it has the ability to record streaming video, record Internet TV from almost all social video websites and Internet TV channels. And these covered websites and channels are Veoh, Joost, YouTube, Yahoo Video, Dailymotion, Metacafe, CBS, PBS, SVTPlay, TV4Play, etc.
Most Streaming Media Protocols are supported
You can easily record video from media protocols such as HTTP, HTTPS, FTP, RTSP, RTMP and MMS and support recording file types (flv, swf, mp4, 3gp, asf, mpg, mov, rm, rmvb, wmv, avi, wma, wav, h264…)
Support Record Streaming Video from Any Web Browser
By using Streaming Video Recorder, no matter what web browser you use (IE, Firefox, Maxthon, or Opera), you will never fail to record streaming online video and record Internet TV.
Embedded Video Converter to Convert Recorded Videos
There is a powerful video converter built in Streaming Video Recorder, so you can easily convert the recorded videos to many different file formats. You can keep the recorded videos in their original formats, or you can convert these videos into other formats. It provides you the ability to convert each video into any popular format such as MP4, AVI, WMV, 3GP, VOB, MOV, MPG, MP3, WMA, etc for your iPod, iPhone, PSP, Zune, or other portable devices.
Quality of Recorded Videos Is Excellent
The most advanced feature with Streaming Video Recorder is its recording technology designed to give you the highest quality with sharp videos or images. Streaming Video Recorder record streaming video or record Internet TV in its original video quality, you can get 1:1 video quality as you watch online.
Support Batch Record Streaming Videos
Streaming Video Recorder enables you to record multiple videos at a time. Launch Streaming Video Recorder, open several web pages that contain your favorite videos, as many as you like, and you can record those streaming videos to your hard disk simultaneously at the same time.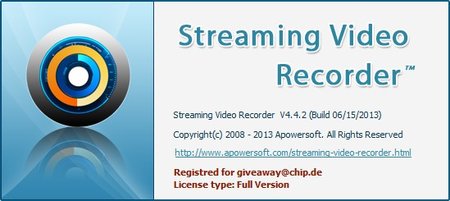 OS : Windows XP, Vista, 7 and 8
Language : Multilingual 
Home Page – http://www.apowersoft.com/
---
Download freakshare
http://freakshare.com/files/zcqpp6s8/Apowersoft.Streaming.Video.Recorder.4.4.2.rar.html
Download filefactory
http://www.filefactory.com/file/7ph05dn1ukp/Apowersoft.Streaming.Video.Recorder.4.4.2.rar
Download uploaded
http://ul.to/ga3k63yk
Download 百度云
http://pan.baidu.com/share/link?shareid=1321042078&uk=909160512
转载请注明:0daytown » Apowersoft Streaming Video Recorder 4.4.2 屏幕视频录制工具