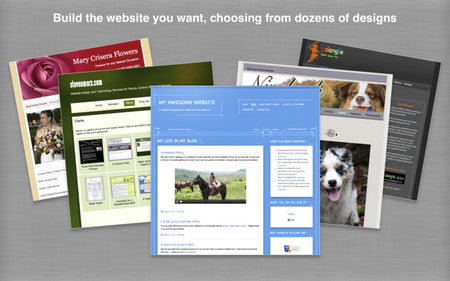 Sandvox可建立美观大方,内容丰富,符合标准的网站,方法简单快捷:拖放内容,然后按照你想要的方式来创建网页,并发布到您所选择的服务器上即可,Sandvox可让用户创建新的专业网站,并使专业开发人员能够创建复杂的多媒体网站。
---
Sandvox 2.8.2 | Mac Os X | 36 MB
With Sandvox, you can build beautiful websites easily and quickly… with no HTML expertise. Yet, as easy-to-use as Sandvox is, it holds powerful features: the ability to add blogs; create photo galleries; and so much more — all from an elegant interface designed for those who want professional results without any hassles. That's Sandvox.
Only Sandvox lets you drag and drop content, integrate with Twitter and Facebook, add YouTube videos and more, AND see exactly what it looks like right on the screen, as you go, even before you hit the Publish button. With Sandvox, no "preview" feature is needed, since what you see in the editing window represents exactly what your website will look like.
Sandvox Features
Drag-drop-publish website creation
Build a 5-page site in 20 minutes or less
No HTML expertise required
No design expertise required
Easily add photos, videos, forms, and much more to your website
Generates HTML5 websites compatible with all popular browsers on Mac and Windows platforms, iOS devices (iPhone, iPad)
Generates search-engine-friendly code to aid organic discovery on Google, Bing, and other search engines
iMedia Browser integration
More designs (now over 60 to choose from) NEW
More powerful architecture and editing engine NEW
Inspector with more options NEW
Photo galleries with "lightbox" effect to pop out of your page NEW
Slide shows to flip through multiple images NEW
Social media integration objects NEW
HTML Objects: Use raw HTML to inject custom HTML or CSS and JavaScript, PHP, embed codes, etc. NEW
Built-in jQuery support NEW
New Cocoa plug-in API NEW
"Lion" Features like full screen mode and version browsing NEW
"Mountain Lion" Features like social media sharing and notifications NEW
System Requirements
Mac OS X 10.6 or later
Sandvox is available in English, French, German, Italian, Spanish, Brazilian Portuguese, Simplified Chinese, and Japanese.
HomePage: http://www.karelia.com/sandvox/
---
Download freakshare
http://freakshare.com/files/jpo84ar6/SVOX282.dmg.html
Download filefactory
http://www.filefactory.com/file/4rfnnyvx12ux/SVOX282.dmg
Download uploaded
http://ul.to/wuecaggx
Download 城通网盘
http://www.400gb.com/file/23029902
Download 百度云
http://pan.baidu.com/share/link?shareid=852666048&uk=909160512