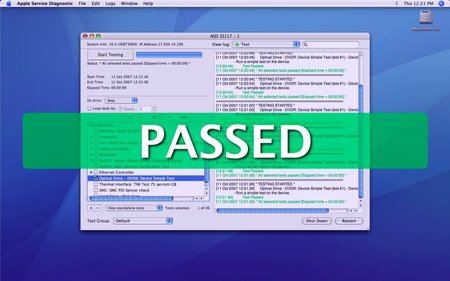 Apple Service Diagnostic 是苹果分发给维修站的苹果硬件诊断工具,使用它可对硬件进行全面的测试,可以检测出什么地方有问题等。
---
Apple Service Diagnostics 3S156 | Mac Os X | 2.76 GB
Apple Service Diagnostics (ASD) is only distributed to Apple Service Providers. The Apple Service Diagnostics application is designed to run both EFI and Mac OS X tests from an internal cd- or dvd-drive or an external USB hard drive ( version 3s123 or above ). Apple Service Diagnostics (EFI) runs low-level tests of the hardware directly and does not require Mac OS X, while Apple Service Diagnostics (OS) uses Mac OS X to run tests.
This diagnostics suite was added to the ASD archives 11-Jun-2013
About Apple Service Diagnostics 3S156
ASD 3S156 supports the following machines only;
MacBook Air (11-inch, Mid 2013)
MacBook Air (13-inch, Mid 2013)
Installing Apple Service Diagnostics on a USB hard drive Please refer to the document "Installing ASD on a USB hard drive" included with this release.
Note: ASD is tested with a custom Mac OS that is supplied in the image. As a test requirement the OS is set up as a root user. DO NOT copy ASD to another OS or some tests will fail. Also running ASD on another OS removes some of the Finder menu items and sets preferences specifically for ASD requirements. It will damage your OS so use the one provided.
Original disk images from Apple;
ASD_3S156.001.dmg
ASD_3S156.002.dmg
ASD_3S156.003.dmg
ASD_3S156.004.dmg
---
Download freakshare
http://freakshare.com/folder/257685/c0e950e.html
Download filefactory
http://www.filefactory.com/f/5c1072d4f35da199
Download uploaded
http://ul.to/f/wsmn7l
Download 城通网盘
ASD.3S156.part1.rar: http://www.545c.com/file/22985415
ASD.3S156.part2.rar: http://www.545c.com/file/22985417
ASD.3S156.part3.rar: http://www.545c.com/file/22985418
ASD.3S156.part4.rar: http://www.545c.com/file/22985419
ASD.3S156.part5.rar: http://www.545c.com/file/22985420
ASD.3S156.part6.rar: http://www.545c.com/file/22985421