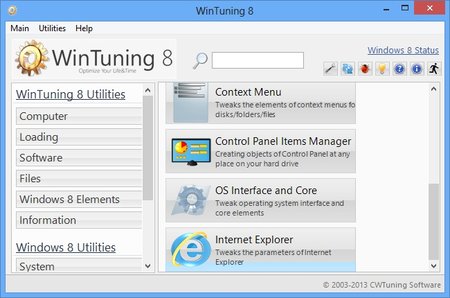 WinTuning 8是一款国外出品的一体化Win8优化软件,功能包括:Win8优化、清理垃圾、配置引导、硬件参数、网络优化、维护、桌面设置、注册表清理等功能,基本上 Win8 系统需要经常做的维护、优化、备份一次到位。
尽管Win8在性能和开机速度已经超越Win7,但通过优化后Win8更快,拥有更好的性能,其实就是关闭了不必要的后台进程和服务,还是优化清理一下为好。
---
WinTuning 8 1.2 | 43.9 MB
WinTuning 8 is designed to configure and optimize Windows 8, check the updates of installed programs, get access to more than 80 public and hidden tools of Windows 8, configure the boot, remove junk files from your hard drive, obtain information about your system, diagnose and troubleshoot operating systems and more. 
The program allows you to configure the boot / shutdown process, hardware parameters, speed up the Internet connection, change the settings of Windows 8 elements: Desktop, Context menus, Explorer, Taskbar, Start Menu and windows. The program offers tools to quickly rename files by mask, disk scanning, and automatic shutdown after a specified period of time, edit boot screen, remove unnecessary programs and junk files, check for updates for installed programs. Includes Clipboard and memory monitoring, allows get access to the information about your operating system, and to numerous built-in utilities of Windows 8
Each tweak has textual tips, and some of them have the image-tips also. It allows you to see the tweak in action. The program search you hard drive for unnecessary files (cache of browsers, logs, shortcuts of recent documents, temporary files, etc.) makes it possible to free up space on your hard drive. In the utility "Startup Manager" you can safely (it is possible to change it back) disable unnecessary programs that can slow the Windows 8 loading process down. The program contains the database of Windows 8 utilities, with detailed descriptions and the ability to run from the single window (80 utilities is in the database)
WinTuning 8 allows you to optimize your system, your time and your life.
Why WinTuning 8? Windows 8 Status Monitor scans for errors of your Windows 8 operating system;
A lot of image tips for tweaks. It will help you to understand what will happen in Windows 8 after the tweak is applied;
Tweak your system to improve windows startup and shutdown speed; tweak your hardware to increase system speed and performance;
Find and clean junk files to increase Hard Disk space;
Optimize your Internet connection speed;
Tune up Windows 8 boot menu;
Customize Windows 8 Logon Screen;
Show the collection of Windows utilities;
Get detailed system and all hardware information on your system;
Edit context menus of mouse Right-Clicking;
All operations performed on the operating system are completely safe, because all changes can be undone at any time.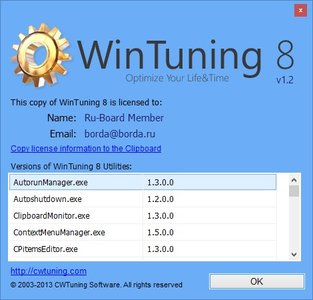 OS : Windows® 8 (32 and 64 bit) 
Language : English, Russian
Home Page – http://www.cwtuning.com/
---
Download filefactory
http://www.filefactory.com/file/7gmziac8yjkf/WinTuning.8v1.2.rar
Download freakshare
http://freakshare.com/files/76clecpq/WinTuning.8v1.2.rar.html
Download uploaded
http://ul.to/uu6z3gv2
Download 城通网盘
http://www.400gb.com/file/22913370
Download 百度云
http://pan.baidu.com/share/link?shareid=1327192009&uk=791730496
转载请注明:0daytown » WinTuning 8 1.2 WIN8优化工具