BBYY FineReader 是世界排名第一的 OCR 文字识别工具,提供高效和精准的文档识别、数据提取解决方案,支持多国字符和彩色文件识别,主要用于将扫描图像、图片型PDF转化成可编辑的文本。
ABBYY FineReader 可以看作是超级无敌的 PDF 转换器,能转换任意类型的 PDF,其他 PDF 转换工具、或清华紫光OCR、尚书七号、汉王OCR等在它面前都可谓是浮云。比较常用的功能为:扫描到 Word、将PDF/图像、图片转换为 Word 文档或者可编辑/可搜索的PDF文档,另外也支持将PDF/图像转换为 Excel 文档。
作为目前最好的OCR识别软件,FineReader 目前支持23种界面语言,多达189种OCR识别语言,包括其中几种语言的混合识别和结构复杂的文字识别;本次绿色版还保留了泰比 ABBYY Screenshot Reader 以及泰比 ABBYY Business Card Reader,分别用于将截屏图片转化成文字和名片扫描。
专业的OCR识别技术意味着软件体积的增大,如果需要轻量级OCR解决方案,可以使用 Able2Extract,就是只支持英文语言识别比较遗憾,不过 CAJViewer 提供了比较方便易用的中文OCR技术。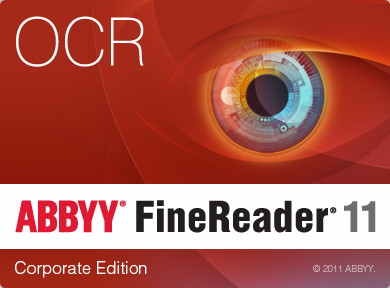 *  OCR识别精度达到99%的先进OCR识别技术可以使您无需录入和排版就可以数字化您的文档;
*  ADRT技术可以完美还原文档的逻辑结构和格式;
*  先进的数码相机OCR识别技术;
*  与PDF文件广泛协同;
*  通过预先定义的快速OCR识别任务来处理文件。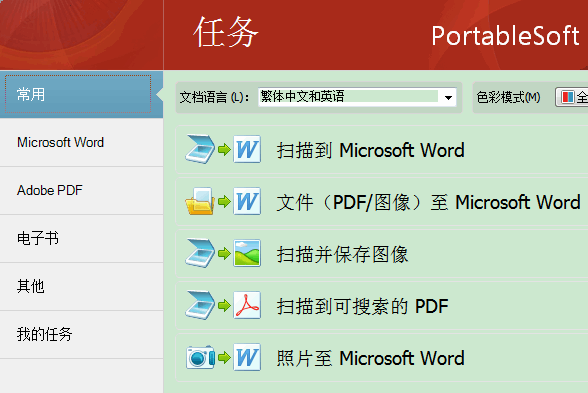 泰比(ABBYY )FineReader 11 Corporate Edition是公司,政府和教育机构处理文件的理想的解决方案。 结合FineReader企业版的创新ADRT技术与易用性,提高您的业务流程的性能。该方案包括一个在工作组文件转换与网络功能和性价比的许可选择的有效工具,以满足您的业务需求。
---
ABBYY FineReader 11.0.113.114 Professional / Corporate Edition | 386.3/421.3 MB
ABBYY FineReader 11 Corporate Edition is the ideal solution for streamlining document processing among workgroups in business, government and academic environments. Combining innovative ADRT technology with ease of use, FineReader Corporate Edition streamlines workflow and provides comprehensive network capabilities and cost-effective licensing options to meet your business needs.
Outstanding Accuracy
Use standalone or networked scanners and MFPs to scan and convert documents into editable text and searchable PDFs with up to 99.8%* recognition accuracy.
Adaptive Document Recognition Technology (ADRT®) for Less Retyping and Reformatting 
FineReader 11 precisely re-creates multi-page document structures and formatting, including text size and font styles, tables and diagrams, columns, headers, footers, footnotes, page numbers and more.
Faster Processing and Quick Access to Automated Tasks 
More efficient processing and special modes deliver up to 45%* faster results. A user-friendly interface eliminates the need to learn complicated routines and settings: create automated Tasks according to your needs and share them with your workgroup.
Advanced Privacy and Security 
FineReader 11 supports security settings in PDF files and makes it easy to redact sensitive information.
Advanced PDF Conversion and Compression 
Easily convert scans and PDFs to searchable PDFs and PDF/A documents for reliable archiving.
More Recognition Languages Supported than in Any Other OCR
With new support for Arabic (Modern Standard), Vietnamese and Turkmen (Latin), ABBYY FineReader 11 recognizes and converts any combination of 189** languages to help you expand your global capabilities.
Automated OCR Processing for Greater Flexibility
Use Hot Folder to schedule conversion at specific times and monitor progress. ABBYY Hot Folder allows you to designate a folder location on a local drive, network drive or FTP server to be monitored by FineReader, which will automatically process any file placed in the specified location.
ABBYY FineReader® 11 Professional is the latest version of an award-winning OCR software that creates editable, searchable files and e-books from scans of paper documents, PDFs and digital photographs. More than 20 million people around the world use ABBYY FineReader at home and the office for text recognition and document processing. New levels of speed and accuracy deliver unmatched recognition and conversion, virtually eliminating retyping or reformatting.
Convert scans & PDFs into searchable files 
Convert documents with unmatched recognition accuracy, virtually eliminating retyping.
Unlock information in PDF files 
Easily change, update, and use information locked in PDF files.
Get more done with fewer steps 
Intuitive use and one-click automation enables you to do more with fewer steps.
Home Page – http://finereader.abbyy.com/corporate/
---
http://wm.makeding.com/iclk/?zoneid=2430&uid=1538
转载请注明:0daytown » OCR识别软件 ABBYY FineReader 11.0.113.114 Professional / Corporate Edition