Wise Care 365 Pro是WiseCleaner公司推出的一款专业的系统优化软件,其功能类似360安全卫士,不过运行起来速度明显快于前者,且重点是系统优化,它将著名磁盘清理工具Wise Disk Cleaner和注册表清理工具Wise Registry Cleaner的二合为一,全面提高计算机性能。
Wise Care 365 Pro的主要功能如下:
1、电脑体检功能:全面检测电脑安全,一键修复提高电脑性能。
2、系统清理功能:能够实现清册表清理,常规清理,计算机痕迹清理、高级清理和系统瘦身。
3、系统优化功能:磁盘整理,注册表整理和启动项管理加速。
4、隐私保护功能:隐私擦除,磁盘擦除,文件粉碎,密码生成器。
5、系统备份与还原:创建系统还原点一键还原和备份。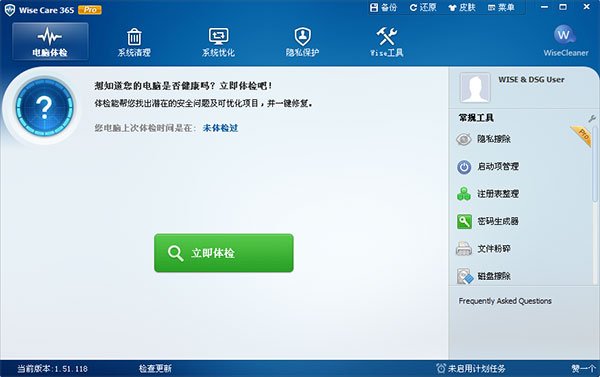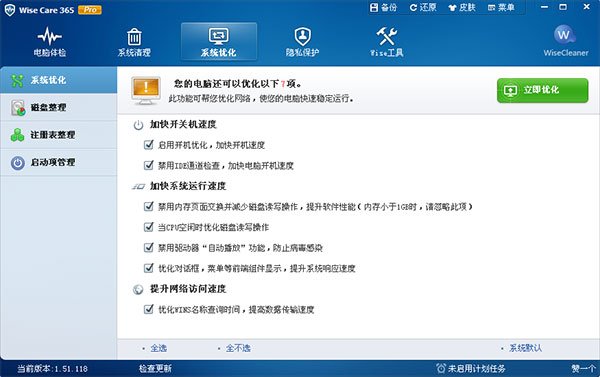 Wise Care 365 Pro 2.49
Wise Care 365 is a bundle of important registry, disk, and other system utilities for your PC. Easy to use and effective, Wise Care 365 is the best solution to improve your PC's performance. Get Wise Care 365 and your computer will never run slow again!
What can Wise Care 365 do?
• Clean up, defragment and optimize the Windows Registry
• Defragment and free up space on your hard disk
• Protect your privacy by erasing personal tracking data
• Recover lost files
• Hide important files or folders
• Prevent unauthorized use of personal applications
• Auto shut down your PC
• Free up Memory to boost game and enterprise software performance
• Simple "One Click Tune-up" option will optimize your PC
Changes:
• Improved its start speed.
• Fixed a registeration issue.
• Improved some language packs.
• Improved schedule task.
• Several minor fixes.
Home Page – http://www.wisecleaner.com
---
Download 城通网盘 
http://www.400gb.com/file/22509490