Shimo是Mac平台最先进的VPN客户端,它比其他VPN应用支持更多的协议并支持AnyConnect CiscoVPN,IPSec,OpenVPN,PPTP/L2TP,Nortel,Juniper甚至是SSH都难以处理的,Shimo都能搞定。而且支持Growl和声音提醒。
---
Shimo 3.2.3 | Mac Os X | 7.6 MB
Shimo is the most advanced VPN client for the Mac platform and supports more protocols than any other VPN application out there! Cisco, IPSec, OpenVPN, PPTP/L2TP and even SSH are no problem to handle for Shimo. Shimo is able to automate everything around your secure network connections: Establish connections automatically when you change your network location, execute AppleScripts on certain events or get notified about these events. This is just a very small excerpt of Shimo's capabilities. Feel free to download Shimo from our website and find out about its extraordinary feature set.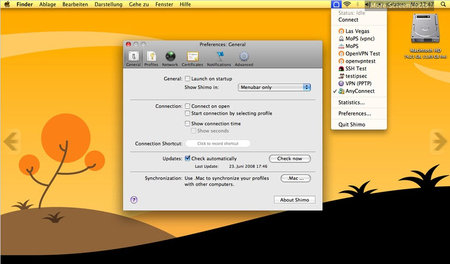 Perfect Network Integration
VPN connections are an essential part of many people's daily life and therefore they have to be integrated seamlessly into the existing network infrastructure. Shimo automatically detects changes in your network configuration and reacts accordingly like initiating a VPN connection or reconnection.
Stronghold for your Passwords
Secure VPN connections are only really secure as long as the data used for authentication is stored safely. Therefore Shimo uses Apple's central storage for all your sensitive information: Keychain. Both, your passwords and your certificates are stored in the Kechain and thus protected additionally by your MacOS X password.
Always be up-to-date
Shimo keeps you informed about every important event. To achieve this it offers multiple different ways of getting your attention: Next to growl notifications and special sounds Shimo supports spoken text and custom AppleScripts. With those you can execute whatever action you want and connect it with a specific event in the connection process.
Hardcore Technology, Mac Simplicity
When we speak about VPN we think of encryption, authentication and low level networking. Abbreviations like 3DES, AES, PFS and DH make it even more complicated for a normal user to set up a secure tunnel. Shimo makes all this possible and enables really everbody to handle secure connections.
Nothing is impossible
Shimo supports almost every VPN protocol that is currently used. Next to the widely used CiscoVPN, Shimo easily handles OpenVPN and standard compliant IPSec connections. PPTP and L2TP are no problem at all either. With Cisco's new AnyConnect protocol and the zero-configuration protocol Hamachi the list of supported connection types becomes even longer. If you know any protocol not supported by Shimo, please let us know
Requirements:
Intel, Mac OS X 10.6 or later
---
Download freakshare and Crack
http://freakshare.com/files/iop24kv1/SHM323.dmg.html
Download filefactory and Crack
http://www.filefactory.com/file/16aowo2y9qn/SHM323.dmg
Download Uploaded and Crack
http://uploaded.net/file/dh8iu7bo/SHM323.dmg
Download 城通网盘 and Crack
http://www.400gb.com/file/22448588
转载请注明:0daytown » Shimo 3.2.3 MacOsX VPN客户端