Atomic Alarm Clock为一款配置灵活多样的时钟软件,它有多达100多种换肤功能,可通过网上标准时钟资源自行矫正,可定时控制其它程序的运行.
Atomic Alarm Clock 6.11 | 5.5 Mb
Alert yourself about important events with different alarms and replace your computer tray clock using different skins. Computer Alarm Clock that will play any MP3 file. It can also run a program, log off, reboot, shut down, or turn off. Atomic Alarm Clock is also an atomic-time synchronizer and advanced replacement for Windows tray clock. Over 130 skins are included in the distribution. It is supported by Longhorn clock style. This program includes multilingual interface support! This computer alarm clock is built into your personal PC and completely customizable.
Features:
» Fully automated PC usage/Project tracking software that surveys the time spent on the PC
» Time tracking is the process of recording the time that you or employees work on various projects or tasks for your customers, your company, or yourself. 
» Employee Project Clock is a employee time recording system 
» Clock Tray Skins – Advanced replacement for standard Windows tray desktop clock 
» Shows current time and date in another time zone, next to your computer desktop clock
» Speaks the time, enhances taskbar desktop clock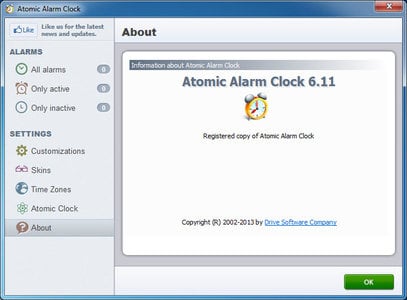 Home Page – http://www.drive-software.com/atomicalarmclock.html
---
Download filefactory and Crack
http://www.filefactory.com/file/16lc8x6i787j/Atomic_Alarm_Clock_6.11.rar
Download freakshare and Crack
http://freakshare.com/files/ttyddl40/Atomic_Alarm_Clock_6.11.rar.html
Download Uploaded and Crack
http://uploaded.net/file/ccsjxji8/Atomic_Alarm_Clock_6.11.rar
Download 城通网盘 and Crack
http://www.400gb.com/file/22420033
转载请注明:0daytown » Atomic Alarm Clock 6.11 时钟软件