Toontrack Beatstation VSTi AU RTAS HYBRID DVDR + Update 1.0.3 | 1.45 Gb / 168.4 Mb
At its core, Beatstation marks the next step in Toontracks evolution of creating virtual instruments that are both simple and effective to use but also very powerful sound design & music production tools.
Offering drum, bass and lead instrument creation & arrangement with drag and drop simplicity, Beatstation is your "go to" instrument for quickly getting a full groove up and running in no time at all. As if thats not enough, weve also added full MIDI & REX file support. Couple those features with the flexibility of working in Beatstation as a stand alone instrument or an AU, RTAS or VST plugin inside your favorite DAW and Beatstation becomes a creative musical force to be reckoned with.
Beatstation comes standard with a 1.5 Gb core content library packed full of beautifully recorded instrument patches, loop ready REX files and even completely customizable MIDI arrangements.
If you can think of a sound, Beatstation can help you bring it to life.
Beatstation also lets you use and combine all of your existing Toontrack EZX & SDX drum libraries together to create one of a kind drum kits and sounds. From basic musical sketches to lavish complete productions – Beatstation gives you the tools and freedom to design your own musical agenda any way you want to.
Beatstations core content library is divided into three distinct categories:
• Lowbit
45 Basses, 48 Leads, 385 Percussive sounds, 53 REX Loops, 25 Bass Patches & 19 Lead Patches, 3 Complete MIDI Arrangements (173 MIDI files) with 3 full kit patches (Bass, Lead, Drums)
• Synthetix
18 Basses, 52 Leads, 750 Percussive sounds, 206 REX Loops, 24 Bass Patches & 102 Lead Patches, 9 Complete MIDI Arrangements (498 MIDI files) with 9 full kit patches (Bass, Lead, Drums)
• Organic
4 Basses, 11 Leads, 317 Percussive sounds, 250 Metal Guitar REX Loops played by Fredrik Thordendal / Meshuggah, 24 Bass Patches & 82 Lead Patches, 6 Complete MIDI Arrangements (362 MIDI files) with 3 full kit patches (Bass, Lead, Drums)
With the core content, you are granted instant access to all the acoustic, electronic and resampled instrument samples vital to modern production. Each category contains a variety of kit presets with corresponding MIDI variations comprised of drum, bass and lead parts. Keep in mind that they are all just a click and drag away!
The core content come stocked with thousands of MIDI grooves, REX loops, drum/bass/lead instrument presets created from 148 of the popular sounds and timbres from a massive collection of one of a kind, rare, vintage, modern and custom instruments- all meticulously multi-sampled by Toontrack.
For the advanced user Beatstation contains a number of powerful yet simplified tools for manipulating MIDI, sound design, instrument creation and full mixing. This includes full ADSR, pitching, reverse, sample off-set, note-on/off, mono/poly, 5 part sample/REX loop or slice layering per pad all with individual parameter control, variable swing, flam, transposition, 1/2 x tempo, 2 x tempo and a handy part separation feature for extracting a specific part from within the MIDI file.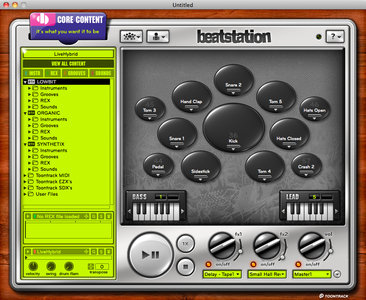 System requirements
Windows: Windows XP SP3 or newer, Pentium 4 or Athlon processor with 512 MB RAM
Mac: Mac OS X 10.5 or higher, G5 or Intel processor with 512 MB RAM (only 32 bit)
2 GB free hard disc space, DVD drive.
Toontrack.Beatstation.VSTi.AU.RTAS.HYBRID.DVDR-AiRISO
ToonTrack.Beatstation.v1.0.3.UPDATE.ONLY.WIN.OSX.Incl.Keygen-AiR
Home Page – http://www.toontrack.com/
转载请注明:0daytown » 打击乐部件声音设计工具及音频引擎 Toontrack Beatstation VSTi AU RTAS HYBRID DVDR + Update 1.0.3