Windows 7 Manager(Windows 7总管)是一款优化和设置Windows 7的工具软件,它可以让你的Windows 7系统变得更苗条、更快、更安全和更个性化。它的主要功能主要分为信息、优化、清理、个性化定制、安全、网络和其他工具几大部分。
因为Windows 7所需求的系统配置需求较高,所以很多勉强装上Windows 7的朋友可能都已经体会到了Windows 7的"惊"人之处,想必以后Windows 7这类瘦身优化工具会深受大家的喜爱。
---
Windows 7 Manager 4.2.7 | 13.3 MB
Windows 7 Manager is a system utility that helps you optimize, tweak, and clean up Windows 7. It will increase your system speed, improve system security, and meet all of your expectations.
Why Should I use Windows 7 Manager?
Windows 7 is the newest Operating System for home users and professionals alike. Windows 7 brings clarity to your world, so you can more safely and easily accomplish everyday tasks and instantly find what you want on your PC.
Windows 7 Manager is the powerful software tool to tweak and optimize your Windows 7, it bundles more than 30 different utilities in one and help your system faster and more stable, secure and personal!
Features and Benefits of Windows 7 Manager
Information
Get detailed system and all hardware information on your system; help you find out the installation key of Windows, Office products; show all detailed information of running processes and threads on your machine; Windows 7 Manager offers 1-clicking cleans your system automatically.
Optimizer
Tweak your system to improve windows startup and shutdown speed; tweak your hardware to increase system speed and performance; Optimize Task Schedule to turn off unnecessary system tasks.
Cleaner
Find out which files or folders engross your disk space and shown with chart; Find and clean junk files to increase Hard Disk space; Duplicate Files Finder can scan your computer for files with the same size, name and modification time; Registry Cleaner can easily checks your registry and repair incorrectly linked registry entries, automatically remove invalid entries; Registry Defrag rebuilds and re-indexs your registry to reduce application response time and registry access time.
Customization
Control what is started on Windows startup; tune up Windows 7 boot menu; edit context menus of mouse Right-Clicking; customize system desktop, menus, toolbar and notifications settings; automatically change your desktop wallpaper on background.
Security
You can improve desktop, menus, Windows logon securities, and enable numerous hidden performance options of system, disable system updates and error reports; hide and restrict to access drives, specify which applications are not allowed to be executed on your computer; encrypt/decrypt and shred files, change the location of system folders; Privacy Protector can maintain your personal privacy by eliminating the tracks that you leave behind; create lots of randomization password once.
Network
Optimize your Internet connection speed, manage all shares items; tweak your Internet Explorer easily.
Misc. Utilities
Show the collection of Windows utilities; split and merge any file.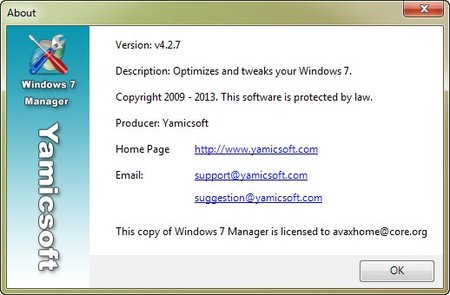 OS : Windows 7 32 bit and 64 bit operating systems.
Language : English
Home Page – http://www.yamicsoft.com/
---
Download filefactory and Crack
http://www.filefactory.com/file/vqrxjzrrlmx/Windows.7.Manager.4.2.7.rar
Download freakshare and Crack
http://freakshare.com/files/0xa6zog3/Windows.7.Manager.4.2.7.rar.html
Download Uploaded and Crack
http://uploaded.net/file/uptwtgl6/Windows.7.Manager.4.2.7.rar
Download 城通网盘 and Crack
http://www.400gb.com/file/22421378