NXPowerLite for File Servers (文件服务器版)可大大减少服务器文件冗余,释放现有存储空间。
NXPowerLite for File Servers(文件服务器版)可处理核心区文件冗余,可使 Microsoft Office 和 JPEG 文件大小减少高达 95%*。
它会分析服务器上的内容,并且将过大的文件替换成小的经过优化的版本。同时,由于经过优化的文件无需进行解压缩或解除冻结,因此对系统无任何不良影响。
文件保留原格式,保留所有属性及可见内容完整性,它们与原始文件具有相同的外观和功能,但是要小的多!
---
Neuxpower NXPowerLite for File Servers 5.1.3 Multilingual | 81.2 MB
Neuxpower NXPowerLite for File Servers 5.1.3 Multilingual | 81.2 MB
PDF, MS Office and JPEG files often contain a lot of unnecessary data, stuff like meta data and fast save information, so NXPowerLite removes anything not needed to open the file. NXPowerLite will also work its magic on any images in the files. It'll save them in the smallest file size without removing any of the quality.
Features
What's new?
NXPowerLite for File Server Version 5 now optimises PDF and the files within Zip files. We have built a new user interface, improved our scheduling feature as well as allowing users to create profiles that can be applied to folders and files across the server.
Evaluation mode
This mode sees NXPowerLite scan all of the data you point it at and tell you how much space it estimates it could save you. NXPowerLite creates a temporary file, optimizes it, and then deletes the file, taking note of the size difference between the two. You can then see your estimated space saving on an easy-to-understand report.
Flexible settings & scheduling
The new scheduling features are very flexible. NXPowerLite can be scheduled in many different ways. It is possible to schedule NXPowerLite to start at a specific time and date. It also allows for many different repeat types depending on what time slot is selected.
NXPowerLite will continuously loop over the selected folders only pausing when it detects there is no content to optimize. It will then try to optimise periodically, so there is no danger of over using your server and no need for constant monitoring of the software.
Create profiles
We have enabled much more flexibility in the settings applied to different folders on the server. It is now possible to set one folder to optimize all file types with default optimization settings but another to only optimize PDF files with most aggressive optimization settings. These profiles can also be saved and edited for future, saving valuable time.
Comprehensive reports
When NXPowerLite has finished optimising it will generate a detailed HTML report. This contains a complete overview of your server content, including the storage saved for each file type.
Supported file types
– PDF & PDF/A Documents
– Microsoft PowerPoint presentations
– (PowerPoint 97-2010)
– Microsoft Word documents
– (Word 97-2010)
– Microsoft Excel spreadsheets
– (Excel 97-2010)
– JPEG images
– ZIP archives (all the above formats contained within Zip archives)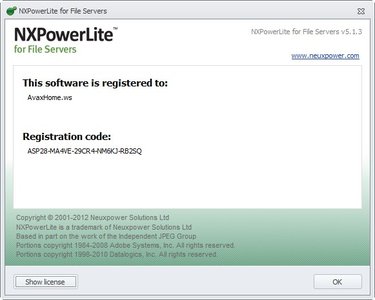 OS : Windows XP/Vista/7/8
Language : Multilanguage 
Home Page – http://www.nxpowerlite.com/
---
Download filefactory
http://www.filefactory.com/file/317qp1kcikoj/Neuxpower.NXPowerLite.for.File.Servers.5.1.3.rar
Download freakshare
http://freakshare.com/files/sub2sibj/Neuxpower.NXPowerLite.for.File.Servers.5.1.3.rar.html
Download Uploaded
http://uploaded.net/file/tuwzfh0k/Neuxpower.NXPowerLite.for.File.Servers.5.1.3.rar
Download 城通网盘 and Crack
http://www.400gb.com/file/22395834
转载请注明:0daytown » Neuxpower NXPowerLite for File Servers 5.1.3 文件服务器文件优化软件